Bentornati cari lettori di The Shield Of Wrestling, come di consueto ogni settimana torna la rubrica #BestMatchesOfTheWeek a cura del vostro TheLegitBoss.
Di seguito vi riportiamo la Top 5 facente parte della rubrica #BestMatchesOfTheWeek.
1)NO TIME LIMIT 2 OUT OF 3 FALLS IWGP HEAVYWEIGHT CHAMPIONSHIP MATCH:
KAZUCHIKA OKADA (C) VS KENNY OMEGA NJPW DOMINION 6.9 09-06-2018 *****
I due lottatori iniziano in maniera prudente studiandosi per qualche minuto ed usando qualche tecnicismo, il primo strappo viene dato da Kenny che rifila un terrificante V-Trigger in risposta al volo di Okada attraverso le barricate, The Cleaner cerca di sfiancare il campione, quest ultimo però reagisce ed esegue un Dropkick e successivamente un Elbow Drop dal paletto, Omega cerca di reversare il Piledriver in uno schienamento ma viene lui pinnato grazie ad un roll-up per la prima caduta.
Il match riparte e Omega cerca di essere aggressivo ma il campione decide di passare ad una fase statica, la reazione dello sfidante arriva con un terrificante Double Foot Stomp dall'apron sul tavolo posizionato addosso al campione, né segue una fase in cui i due si annullano a vicenda, la stanchezza comincia a farsi sentire ma Omega riesce ad eseguire la combo V-Trigger e One-Winged Angel portandosi a casa la seconda caduta.
L'ultima parte è davvero drammatica con Okada che non riesce a rialzarsi e Omega dimostra di non avere pietà colpendo comunque con un altro V-Trigger, prova di nuovo la One-Winged Angel ma in risposta si becca il RAINMAKER, Omega vuole la vittoria a tutti i costi ed esegue addirittura la Styles Clash che però non basta, Okada mette in mostra il suo solito fighting spirit ma quando cerca di eseguire il Rainmaker collassa al suolo perdendo le forze, i due si danno battaglia a suon di German Suplex ma Omega spezza il ritmo con una Reverse Hurricanrana, il campione prova il definitivo assalto ma è senza energie e The Cleaner esegue una One-Winged Angel che lascia Okada letteralmente senza fiato, definitiva V-Trigger e ONE-WINGED ANGEL! Omega Is The New IWGP HEAVYWEIGHT CHAMPION.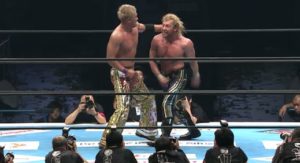 2)TAIJI ISHIMORI VS HIROMU TAKAHASHI NJPW BOSJ FINAL 2018 04-06-2018 *****
Inizio dinamico e veloce con i due che mettono in mostra parte del loro repertorio tecnico, il vento dell'incontro cambia dopo una Hurricanrana di Ishimori che fa letteralmente cadere Takahashi giù dagli scalini dove c'è il pubblico, The Bone Soldier quindi né approfitta per indebolire il suo avversario al collo, esegue addirittura una Crossface modificata che quasi gli da la vittoria, Hiromu reagisce mettendo a segno una Running Death Valley Driver contro il paletto, né segue una fase di colpi stiff e Taiji esegue la Bloody Cross che però non basta, Takahashi reversa una Powerbomb dell'avversario in una Triangle Choke, Ishimori reagisce mettendo a segno la Powerbomb direttamente contro l'angolo ma è solo un tentativo disperato, infatti Takahashi chiude i giochi con la combo Running Death Valley Driver/Time Bomb vincente.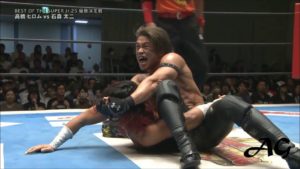 3)IWGP JUNIOR HEAVYWEIGHT CHAMPIONSHIP MATCH:
WILL OSPREAY (C) VS HIROMU TAKAHASHI NJPW DOMINION 6.9 09-06-2018 ****1/4
I due partono in maniera molto aggressiva ma è il campione a mettere il primo punto esclamativo sull'incontro, infatti Running Senton dalla rampa fino alle barricate, Ospreay comincia a dominare l'incontro ma assume anche un attitudine da heel, forse in risposta al continuo e rumoroso tifo nei confronti del beniamino del pubblico Takahashi, lo stesso Hiromu reagisce e reversa la OsCutter in un German Suplex, il campione non si lascia intimidire ed esegue una combo Burning Star Press/Corkscrew Shooting Star Press che però non basta, Ospreay vuole chiudere il match e prova la Stormbreaker ma Hiromu reversa tutto nella sua Triangle Choke, poi una volta in piedi esegue un Double Underhook Piledriver, la Running Death Valley Driver e per finire la TIME BOMB! Che vale match e titolo.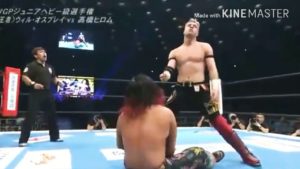 4)IWGP INTERCONTINENTAL CHAMPIONSHIP MATCH:
TETSUYA NAITO (C) VS CHRIS JERICHO NJPW DOMINION 6.9 09-06-2018 ****1/4
Chris attacca Naito prima del match portandolo tra il pubblico e schiantandolo con una Powerbomb sul tavolo, poi rincara la dose con una DDT sul tavolo dei commentatori, né segue una fase di trashtalking con Chris che prende in giro lo sfidante e il pubblico (che tra l'altro continua a tifarlo), Naito comincia a reagire e restituisce il favore di prima, Piledriver devastante sul tavolo dei commentatori e stavolta è Jericho ad essere inerme, finalmente si ritorna sul ring e Tornado DDT del campione, Naito mette a segno anche la DESTINO! Ma non basta, Jericho rimette subito le cose in chiaro con un fantastico Codebreaker al volo in risposta ad un attacco in Springboard di Tetsuya, nella fase finale dell'incontro il campione prova l'ennesima Destino ma Chris si aggrappa all'arbitro, colpisce con un calcio nelle parti basse Naito ed esegue il Codebreaker che vale incontro e titolo.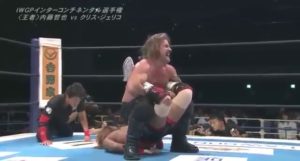 5)IWGP TAG TEAM CHAMPIONSHIP MATCH:
SANADA & EVIL (C) VS THE YOUNG BUCKS NJPW DOMINION 6.9 09-06-2018 ****
Incontro che con la presenza degli Young Bucks è da subito veloce, varie combo e Dropkick che provocano un break nel team heel, Sanada & Evil si ricompongono e cominciano a dominare sfruttando l'infortunio alla schiena di Matt e l'infortunio alla caviglia di Nick, il duo heel va vicino alla vittoria con la Meltzer Driver ma Nick interviene interrompendo lo schienamento, nel finale Matt evita il Moonsault di Sanada ed esegue due Spear, poi SUPERCICK PARTY! E per finire More Bang for Your Buck che vale la conquista dei titoli di coppia.