Si è da poco conclusa la finale di UEFA Euro 2020, il torneo tra le varie nazionali di calcio europee, che ha visto come protagoniste Italia ed Inghilterra al Wembley Stadium di Londra e che ha visto come vincitori gli Azzurri.
Diversi pro-wrestler, sia WWE che non, non hanno mancato di commentare l'intero torneo e nemmeno la finale è esente dai pronostici degli atleti legati al mondo del wrestling. Molti atleti, come Wade Barrett o MVP, hanno pronosticato una vittoria della nazionale Inglese mentre altri come Fabian Aichner o Walter hanno sperato in una vittoria degli azzurri.
Ora che la partita si è conclusa, con la vittoria dell'Italia, vediamo un po' quali sono le reazioni da parte del mondo del wrestling.
I commenti dal mondo del wrestling sulla vittoria dell'Italia nella finale di UEFA Euro 2020
👊 🇮🇹 #EURO2020

— Cesaro (@WWECesaro) July 11, 2021
🇮🇹 #EURO2020 pic.twitter.com/Gq2hYUye97

— WWE on FOX (@WWEonFOX) July 11, 2021
Azzurri!!!!!!!!!!! 🇮🇹 #EURO2020

— Indi Wrestling (@indi_hartwell) July 11, 2021
Just heard the bells ringing here in Venice. Thought it was for Italy winning #Euro2020!!! … but it was because it's midnight. 😴 Time for bed! Congratulazioni, #Italia! 🇮🇹⚽️

— Drew Gulak (@DrewGulak) July 11, 2021
😐 https://t.co/cBkulixuWj pic.twitter.com/ZcNpk8qEIM

— Nick Aldis (@RealNickAldis) July 11, 2021
Thank you very much, #Euro2020Final

凄く燃えた🔥 pic.twitter.com/2ZFUlEDyj9

— 里村明衣子 meiko satomura (@satomurameiko) July 11, 2021
 

Visualizza questo post su Instagram

 
 

Visualizza questo post su Instagram

 
What a fantastic #EURO2020 … entertaining from start to finish.#ForzaItalia #ForzaAzzurri
🇮🇹🇮🇹🇮🇹💪🏽💪🏽💪🏽

Italy is BACK!! pic.twitter.com/3KhxIefJHz

— Bully Ray (@bullyray5150) July 11, 2021

Continuano le manifestazioni di felicità per la vittoria azzurra e si aggiunge anche il wrestler romano D3, da sempre grande rappresentante dell'italianità nel mondo. Daniele ha rilasciato una serie di stories per esternare le sue sensazioni.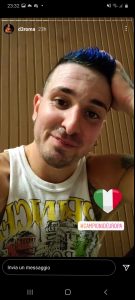 Stiamo cercando nuovi elementi per il nostro staff, ci sono diverse posizioni disponibili, se sei interessato CLICCA QUI
Per farti due risate a tema wrestling, segui i nostri amici di Spear Alla Edge su Instagram!
Ora è possibile acquistare la prima rivista dedicata al wrestling italiano. CLICCA QUI!