Carissimi lettori di The Shield of Wrestling, ben ritrovati nel nostro consueto spazio per eleggere il wrestler extra WWE che più si è distinto durante gli ultimi 7 giorni: Indy Wrestler of The Week. Buona lettura!
•Premessa iniziale: In mancanza di materiale corposo, molto spesso, si decide di introdurre lottatori che fanno parte di federazione che sono Major al 100%. Questa sarà una quelle volte.
•INDY WRESTLER OF THE WEEK – KAITO KIYOMIYA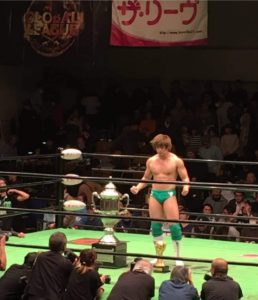 Kento Kiyomiya, a soli 22 anni, ha stabilito un record molto importante. Di fatto, il nipponico, è il wrestler più giovane ad aver mai vinto la Global League della NOAH.
Cos'è la Global League?
È un prestigioso torneo, ospitato dalla Pro Wrestling NOAH dal 2010 ad oggi, strutturato allo stesso modo del G1 Climax della NJPW, ma con meno partecipanti e di conseguenza con meno durata. Difatti, i partecipanti variano di anno in anno, ma non hanno mai superato una cifra consistente. Il premio finale, per il vincitore, è una title shot al GHC Heavyweight Championship. Fra i vincitori più blasonati e conosciuti possiamo trovare KENTA (Fka Hideo Itami); Yuji Nagata; Naomichi Marufuji e Minoru Suzuki.
Indy Wrestler of The Week – Curiosità
Quest'anno la Global League è stata decisamente sfortunata. Naomichi Marufuji – vincitore del blocco A – ha subito un infortunio che inevitabilmente l'ha impossibilitato a disputare la finale. Il suo posto è stato preso da Katsuhiko Nakajima, che ha battuto Kohei Sato e Kenou in un match valido alla qualificazione per la finale.
Anche questo appuntamento con IWOTW giunge al termine. L'appuntamento si rinnova fra 7 giorni. Have a nice day!