Oggi la redazione premia La strana coppia come indy wrestler of the week vista la loro vittoria dei titoli di coppia della PWR.
se su Pete Dunne non ci sono bisogno di presentazioni:esploso un anno fa grazie al WWE UK Tournament ha fatto della PROGRESS la sua casa dominando in singolo e con la sua fazione,i British Strong Style,che aggiungono Tyler Bate & Trent Seven.Il punto di forza del Bruiserweight è l'essere sì uno sfacciato ma uno che sul ring va giù pesante con uno stile duro non rifiutando il catch della scuola britannica.
la McKenzie è una giovane ma che si sta facendo vedere nel panorama indy UK e diventerà maggiorenne solo quest'anno!
La ragazza ha gia vinto il titolo femminile della DEFIANT e si è messa in mostra mostrando una determinazione e una furia agonistica rara facendo di proiezioni e suplex il suo marchio di fabbrica e la sensazione è che possa solo migliorare.
La giovane si è affacciata pure alla PROGRESS dove ha disputato pochissimi incontri ma non deludendo.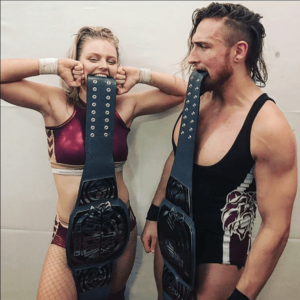 L'appuntamento per Indy Wrestler of the week si rinnova settimana prossima alle 12:00 in puntoo!