Carissimi lettori di The Shield of Wrestling, alla tastiera c'è il vostro Phoenix pronto a raccontarvi quanto successo nell'ultima puntata del Mae Young Classic Tournament!
•"Halestorm" dei Vicious apre la quarta puntata di questa seconda edizione. Le prime due atlete chiamate in causa sono Rachel Evers e Hiroyo Matsumoto. La prima, figlia d'arte di Paul Ellering, dice che il suo stile è molto differente rispetto all'anno scorso. In quest'edizione ce la metterà tutta. È il turno della giapponese, che ci ricorda di essere nel fiore della sua carriera; momento più che adatto per aggiudicarsi il MYC.
•Kassius Ohno – fidanzato di Rachel – si trova fra il pubblico.
•FIRST-ROUND MATCH: RACHEL EVERS V. HIROYO MATSUMOTO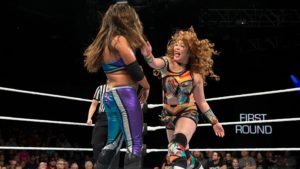 L'esperienza di Rachel in Giappone l'aiuta particolarmente, difatti riesce a tenere testa alla sua avversaria. La nipponica ingrana e inizia a mettere all'angolo Rachel, che subisce un Diving Double Knee Strike: solo 2. Scambio di colpi duri fra le due, Rachel connette una serie di manovre e chiude con la Running Senton: 1…2…NO! Ancora scambio di schiaffi, Rachel esce da un Lariat, ma subisce una Liger Bomb seguita da Backdrop Driver: 1…2…3!
VINCITRICE: HIROYO MATSUMOTO
•Dana Brooke è presente fra la folla pronta ad assistere al prossimo, che vede coinvolte due avversarie di poche parole.
•FIRST-ROUND MATCH: JESSIE ELEBAN V. TAYNARA CONTI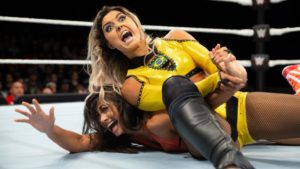 La brasiliana mette in seria difficoltà Jessie, la quale è costretto a ricorrere a dei durissimi Forearm Smash. Lo scontro si chiude brevemente, con Taynara che mette a segno lo Swinging Side Slam.
VINCITRICE: TAYNARA CONTI
•Isla Dawn è molto propensa all'idea che le donne, soprattutto nel Pro Wrestling, debbano dare il 100%. La sua avversaria, Nicole Matthews, è propensa all'idea di menare le mani.
•FIRST-ROUND MATCH: ISLA DAWN V. NICOLE MATTHEWS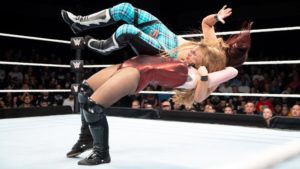 Contesa molto statica fin dall'inizio. Nicole torchia l'avversaria a più non posso, anche se quest'ultima risponde con delle buone ginocchiate. Si continua in maniera abbastanza imprecisa, ed è Nicole a vincere grazie ad una Liontamer.
VINCITRICE: NICOLE MATTHEWS
•Io Shirai fa la solita presentazione, anche se non ce ne assolutamente bisogno. La diciannovenne Xia Brookside sarà la sua avversaria.
•Kairi Sane assisterà al match.
•FIRST-ROUND MATCH: IO SHIRAI V. XIA BROOKSIDE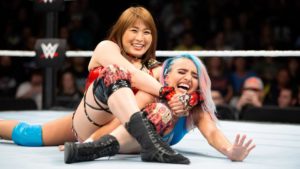 Una solidissima fase di studio fa da preludio ad un match niente male. Xia supera il peggio grazie a delle azioni rapide, ma si becca un Uppercut Micidiale. La Brookside perde le speranze dopo un Running Double Knees all'angolo, per poi essere completamente finita tramite un bellissimo Diving Moonsault.
VINCITRICE: IO SHIRAI
Anche questa puntata ci lascia, giustamente, con il sapore amaro in bocca. Vedremo se l'asticella sarà finalmente alzata nelle prossime settimane. Alla prossima!