Buon Sabato a tutti, amici di The Shield Of Wrestling, io sono Mirko "Ronoy" Mulas e siamo qui per una nuova puntata di Pills Of Wrestling. Buona lettura.
Ci troviamo oggi a raccontare di un formidabile record che da più di vent'anni rimane imbattuto. Il protagonista lo conosciamo bene e lo abbiamo già nominato in un precedente capitolo di Pills Of Wrestling riguardante Jushin Thunder Liger. Il suo nome è Yoshihiro Asai, conosciuto da tutti con il ring name Ultimo Dragon.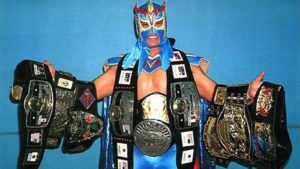 •The Dragon Undisputed Champion
Wrestler di fama mondiale, Ultimo Dragon disputò match in ogni parte del globo, offrendo ottime prestazioni in patria ma anche negli Stati Uniti e in Messico. Gli si riconosce anche l'invenzione di una mossa che prende infatti il suo nome: l'Asai Moonsault. Nei primi anni 2000 arrivò anche nella WWE dove ebbe un ottimo inizio (la compagnia cercava di lasciarlo sulla falsa riga di un atleta messicano che nomineremo più avanti) ma non ebbe presa sulla dirigenza che iniziò a commissionargli solo sconfitte che infine lo fecero andar via dalla federazione di Stamford.
Nell'ottobre del 1996 Ultimo Dragon prese parte al J-Crown (competizione che unificava ben 8 titoli internazionali di pesi leggeri) e l'11 di quel mese vinse contro The Great Sasuke laureandosi campione indiscusso. Nei mesi successivi difese la corona fermamente, incrociando la strada anche di un altro wrestler da noi conosciuto, un certo Rey Mysterio Jr. Prima di questo torneo, Asai deteneva già l' NWA World Middleweight Championship portando quindi a 9 il conteggio totale di titoli alla sua " vita". Il vero Record però arrivò solo il 29 dicembre di quell' anno dove a Starrcade '96, sotto la World Championship Wrestling, sconfisse Dean Malenko in un match valevole sia per il proprio J-Crown che per il titolo dei pesi leggeri WCW. Come detto in precedenza, le 10 cinture detenute contemporaneamente sono un record ancora oggi ineguagliabile che rimane impresso nella storia del Wrestling.
Conoscevate questo aneddoto sull'atleta giapponese? Cosa ne pensate di lui? Fatecelo sapere nei commenti e soprattutto suggeriteci un wrestler di cui volete conoscere qualche segreto, faremo di tutto per accontentarvi! Con questo vi saluto e vi do appuntamento al prossimo Sabato, sempre qui con The Shield Of Wrestling. Stay Tuned Brothers!!