Buon Sabato a tutti, amici di The Shield Of Wrestling, io sono Mirko "Ronoy" Mulas e siamo qui per una nuova puntata di Pills Of Wrestling. Buona lettura.
Quest'oggi ci troviamo qui per una puntata incentrata su di un Wrestler svizzero che ha avuto un discreto successo Oltreoceano. Ovviamente stiamo parlando di Claudio Castagnoli che, per gli amanti della WWE, sarà meglio noto come Cesaro.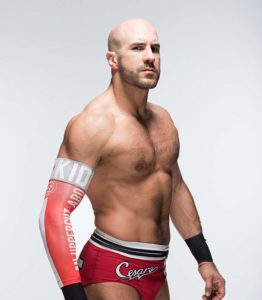 •Cesaro World's Citizen
La Pills Of Wrestling di oggi non è focalizzata su di un avvenimento specifico ma, in generale, su tutta la carriera dello svizzero. Una delle particolarità più importanti di Cesaro è la conoscenza linguistica, infatti l'atleta svizzero conosce e sà parlare fluentemente ben 5 lingue: inglese, tedesco, italiano, francese e il suo dialetto svizzero-tedesco. Nella propria carriera ha potuto calcare parecchi palcoscenici, riuscendo a competere in ben 10 Paesi diversi. Sono parecchie anche le Federazioni che hanno dato asilo al wrestler di Lucerna, tra le più importanti possiamo elencare la Chikara, la Combat Zone Wrestling (CZW), la Ring Of Honor e la Pro Wrestling NOAH. Solo sui 30 anni iniziò ad entrare nei radar della WWE, che lo mise sotto contatto facendogli fare la gavetta prima in FCW e poi in NXT. L'atleta è sempre stato visto come uno degli interpreti più tecnici del panorama del wrestling mondiale, risultando anche l'allenatore di parecchi atleti della scena indipendente. Castagnoli è un pluridecorato wrestler di tag team, avendo detenuto due volte il ROH World Tag Team Championship con Chris Hero come i "Kings of Wrestling" (il loro regno di 364 giorni è stato il più lungo nella storia della compagnia), nonché vari titoli di tag team indipendenti sia con Hero che con Ares , come il Campeonatos de Parejas, il JCW Tag Team Championship e il CZW World Tag Team Championship. Castagnoli e Hero sono stati votati come Tag Team of the Year(2010) dai lettori del Wrestling Observer Newsletter. Anche in WWE ha continuato questa striscia di successi nella categoria di coppia visti i 6 titoli conseguiti tra RAW e SmackDown Live.
Conoscevate queste curiosità riguardanti Cesaro? Fatecelo sapere nei commenti!!
Con questo vi saluto e vi do appuntamento al prossimo Sabato, sempre qui con The Shield Of Wrestling. Stay Tuned Brothers!!