Carissimi lettori di The Shield of Wrestling, ben ritrovati nel nostro consueto appuntamento degli Ups&Downs dell'ultima edizione di Monday Night Raw. Non perdiamoci in chiacchere e iniziamo!
DOWNS:
•
WOMEN'S INVOLUTION – Ups&Downs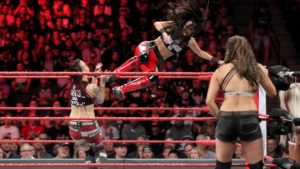 "Brie Bella sta al wrestling come lo zucchero sta alla carbonara" – disse il caro direttore, che anche nell'ultima puntata non è stato minimamente smentito. La moglie di Daniel Bryan ha seriamente rischiato di rompere il naso a Liv Morgan, che dopo due Yes! Kick in pieno volto è collassata al tappeto. Unsafe, voi direte. Inadatta a calcare un ring di pro wrestling, dico io. I botch capitano, gli atleti sono umani e capita ovviamente di sbagliare, a volte. Brie invece, ha un dono speciale: non riesce a fare un match scevro di esecuzioni rocambolesche. Ci sta sponsorizzare Evolution, ma con 'ste storyline poco interessanti e assai brutte rischiano di affossare nuovamente la categoria femminile. Ah, l'hanno già fatto.
UPS:
•
WE ARE HERE TO SHOW THE WORLD – Ups&Downs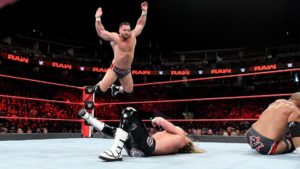 Si può dire tutto di questo show, ma Dolph Ziggler e Drew McIntyre stanno facendo davvero un ottimo lavoro. I due, dopo aver conquistato i titoli di coppia in modo del tutto imprevisto, sono stati in grado di attirare l'attenzione di chiunque e di disputare match sempre oltre la sufficienza. Così è successo nell'ultima puntata di Monday Night Raw, dove hanno messo in piedi un buonissima match contro i Revival. Il loro regno è stato un toccasana per una categoria che tutt'oggi sembra morta.
•

Considerazioni neutrali:

 
Tante sono le fasi di stallo presenti nello show rosso. Il tempo di Baron Corbin general manager, dopo la sconfitta subita, sembra giunto al capolinea. Bobby Roode e Chad Gable sono il paradosso dell'utilizzo casuale, soprattutto dopo l'ultima puntata: prima sconfitta di Chad, che prima o poi subirà o effettuerà il telefonatissimo turn heel. Disastrosa la situazione intorno alla categoria femminile, che non solo vede gente incapace come rappresentante, ma 'gode' anche di una campionessa stra pompata e assente, in un certo senso. La situazione di Dean Ambrose è molto interessante, vedremo come il tutto sarà gestito.
La disamina giunge al termine. Voi, intanto, diteci cosa ne pensate nella sezione commenti. Alla prossima!