Bentrovati col primo appuntamento con la EVOLVE sul sito.
ci eravamo lasciati con il weekend di Wrestlemania con Matt Riddle campione EVOLVE e Austin Theory campione WWN.
Con Riddle ho detto già abbastanza:è senza dubbio il miglior nome per continuare il percorso della promotion che lo ha lanciato e oramai ne è il simbolo;con Theory è davvero un attestato di stima enorme e le ultime prestazioni convincenti fanno ben sperare per il regno.
il turn heel con Priscilla Kelly come manager ha permesso ad Austin di catturare le attenzioni del pubblico senza contare che è uscito dal WWN tryout quindi è un talento "di casa" ed è pure FIP Champion.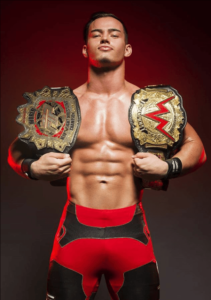 Parlando del weekend di 'Mania ,si è disputato Mercury Rising,classico show WWN che unisce tutte le federazioni sotto di essa.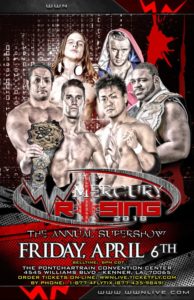 Lo show si è aperto con un ottimo 3 vs 3 tra Theory,Travis Banks & Zachary Wentz contro DJZ,AR Fox & Trey Miguel vinto dagli ultimi con una 450 del DJ di Impact che ha sfidato il campione WWN.
bel finale in USA per Munenori Sawa,sconfitto da Zack Sabre jr,e Daisuke Sekimoto che ha battuto Keith Lee in un match molto tecnico il primo e molto violento il secondo.
Da segnalare pure il faccia a faccia tra Kimber Lee e la SHINE Champion Lu Fisto e il match a coppie no holds barred,autentico spotfest della serata, vinto dai Work Horseman su The End e Williams & Garrini con nel post match il turn del Catch Point sul leader,Traci Williams.Ottimo pure il match per i titoli di coppia tra i campioni Jaka & Chris Dickinson e i Ringkampf che ha oscillato tra la tecnica e lo strong style in maniera egregia e vinto dai campioni con una Pazuzu Bomb assistita.Attendo un rematchl.I match finale è stato un capolavoro tra Will Ospreay e Matt Riddle con in palio il titolo di quest'ultimo.
Pensare che Willy è passato da in dubbio per il weekend a essere presente e con un match del genere non possiamo che apprezzare e ringraziare per tale spettacolo.Will è apparso dolorante soprattutto al collo ma ha retto benissimo nonostante un super belly to belly eseguito dal Bro che ha concuso poco dopo il match con la Bro Lock
Per concludere la EVOLVE ha diramato pure la card del iPPV #105 il giorno dopo il #104.
confermato Keith Lee,probabilmente per salutare la promotion,per un ultimo match con Matt Riddle,ma è assente Zack Sabre jr,visto che oramai è full time in NJPW.
Di sicuro Riddle e Lee regaleranno un altro capitolo incredibile della loro serie.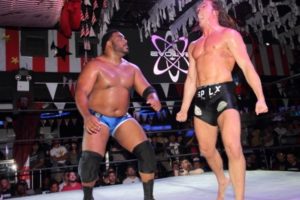 Parlando di Sabre jr ha senza dubbio fatto la storia della EVOLVE, oltre a interrompere i 536 giorni di regno di Timothy Tatcher il mese dopo aver battuto Chris Hero nel suo ultimo match, ha disputato molti incontri memorabili(il match con Roderick Strong a EVOLVE 45 è una perla ignorata)e si è fatto rispettare pure in USA.
La EVOLVE nonostante tali perdite ha comunque un roster invidiabile con Doom Patrol,Austin Theory,DJZ,AR Fox,Matt Riddle,Traci Williams e tanti giovani talenti che potrebbero illuminare il futuro.
Non a caso sono stati presentati 3 match nominati come "Present vs Future"
–Austin Theory vs. Trey Miguel in un non-title match
-DJZ vs. Zachary Wentz
-AR Fox vs. Myron Reed
per la EVOLVE è tutto spero che vi sia piaciuto questo "primo"approccio!