Come di consueto, ogni settimana torna la rubrica #BestMatchesOfTheWeek in cui vi proponiamo la top 5 dei migliori incontri della settimana.
Di seguito viene riportata la classifica:
1)MUSTAFA ALÌ VS BUDDY MURPHY 205 LIVE 08/05/2018 ****1/4
Incontro che vede Buddy Murphy molto aggressivo sin dall'inizio con Alì che però non si lascia intimidire e sfodera la sua agilità, il vento del match cambia dopo un bellissimo Suplex fuori dal ring di Murphy che poi successivamente comincia a lavorare la schiena del suo avversario, in un finale avvincente ma anche drammatico Alì non si arrende nemmeno di fronte a tre Powerbomb devastanti e cerca di mettere a segno la 054 ma sbaglia e viene colpito al braccio per poi essere finito dalla Murphy's Law.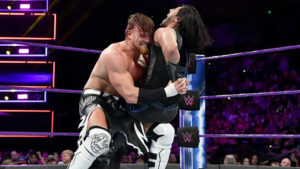 2)TRIPLE THREAT QUALIYFING WOMEN'S MONEY IN THE BANK MATCH:
SASHA BANKS VS EMBER MOON VS RUBY RIOTT RAW 07/05/2018 ****
Altro match femminile che merita di essere nella classifica anche questa settimana, davvero ottimo match a tre con Ruby che domina per buona parte del match anche grazie al fattore numerico, Ember e Sasha invece sono protagoniste degli scambi della serata, con tecnica abbinata ad agilità, la Boss mette a segno un fantastico Up And Over Somersault Plancha ai danni della Riott Squad, nel finale proprio la Boss va vicina alla vittoria con una Hurricanrana reversata in Sunset-Flip e un tentativo di Bank Statement che però viene anticipato e battuto sul tempo dalla Total Eclipse su Ruby che vale la vittoria ad Ember.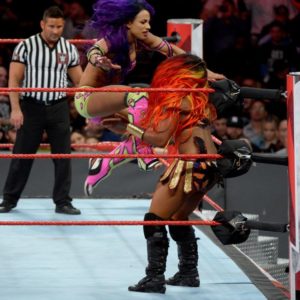 3)KASSIUS OHNO VS TOMMASO CIAMPA NXT TAPINGS 09/05/2018 ***1/2
Incontro davvero molto duro fisicamente con entrambi che non si risparmiano e mettono a segno colpi stiff, in particolare Kassius con le sue poderose gomitate mette in seria difficoltà il suo avversario, Tommaso invece reagisce approfittando degli errori del suo avversario per arrecargli ancora più danno, nel finale Ohno mette a segno le sue gomitate e soprattutto la Death Blow ma Ciampa non si arrende e reagisce con una devastante Clothesline per poi chiudere il match grazie ad una Modified Neckbreaker.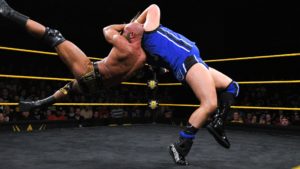 4)TRIPLE THREAT QUALIYFING MEN'S MONEY IN THE BANK MATCH:
FINN BÀLOR VS ROMAN REIGNS VS SAMI ZAYN RAW 07/05/2018 ***1/2
Incontro che vede Sami e Bàlor mettere fuori gioco Roman Reigns in modo tale da vedersela da soli, poco dopo i due cominciano a battagliare non risparmiandosi andando più volte vicini alla vittoria, fin quando non torna Reigns che comincia a fare piazza pulita, lo stesso Reigns è sul punto di vincere l'incontro dopo un Superman Punch e un tentativo di Spear ma viene distratto dall'arrivo di Jinder Mahal, il match si chiude in maniera inaspettata con Bàlor che mette a segno il Coup De Grace su Zayn vincendo.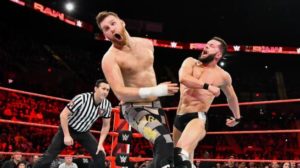 5)OPEN CHALLENGE INTERCONTINENTAL CHAMPIONSHIP MATCH:
SETH ROLLINS (C) VS MOJO RAWLEY RAW 07/05/2018 ***1/4
Incontro che viene contraddistinto dal dominio di Mojo che impone la sua potenza per lunghi tratti, il campione ovviamente non ci sta e reagisce con agilità e i suoi classici Suicide Dive, il vento del match cambia con il comeback di Rollins che arriva vicino alla vittoria grazie ad una Blockbuster, Mojo da fondo a tutte le sue energie e quasi vince mettendo a segno la Hyper Drive, Rollins scampato il pericolo capisce che è il momento di finirla e dunque finisce il suo avversario usando la combo Supercick/Revolution Knee/Curb Stomp.