Come ogni settimana vi proponiamo la rubrica #BESTMATCHESOFTHEWEEK con i 5 migliori match della settimana:
1)SASHA BANKS VS BAYLEY RAW 16/04/2018 ***3/4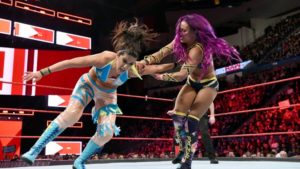 Come al solito queste due non riescono a proporre una brutta contesa,mai banali, repertorio messo ben in mostra con l'agilità di Bayley e la tecnica di Sasha,quest'ultima soprattutto brava nel far vedere la sua attitudine da heel quando si trova di fronte alla sua eterna amica/nemica,ottime manovre come ad esempio la neckbreaker attraverso le corde della Hugger e le ginocchiate di Sasha usate in diversi modi.
2)TORNADO TAG TEAM MATCH:
LINCE DORADO&GRAN METALIK VS HIDEO ITAMI&AKIRA TOZAWA 205 LIVE 17/04/2018 ***3/4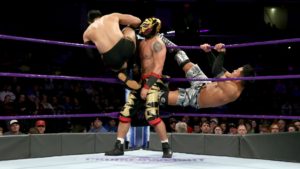 Incontro che definisco la piacevolissima sorpresa della settimana,stipulazione che si vede di rado soprattutto sfruttata benissimo dai lottatori che mescolano il loro stile alla perfezione,un mix di agilità,tecnica e manovre aeree strepitose come ad esempio il doppio springboard moonsault dei messicani al di fuori del ring,match che viene portato a casa con grandissima fatica dal duo messicano con una combinazione di Brillo Dorada e Shooting Star Press.
3)NO DQ MATCH:
LARS SULLIVAN VS KILLIAN DAIN NXT 18/04/2018 ***1/2
Match davvero molto violento caratterizzato  anche dal sangue vista la ferita riportata da Dain nel corso della battaglia,vari colpi con le sedie e un Lars Sullivan che mi ha piacevolmente stupito,la bestia di Belfast invece mette a segno un terrificante splash attraverso il tavolo che infiamma il finale dell'incontro,vittoria che però va a Sullivan grazie alla Freak Accident sulla sedia.
4)RICOCHET VS FABIAN AICHNER NXT 18/04/2018 ***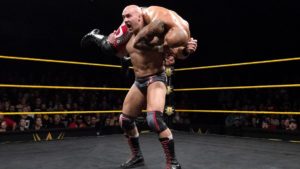 Incontro che inizialmente viene dominato da Aichner che sfrutta la potenza e delle varianti del backbreaker come ad esempio una Tilt-a-whirl  per indebolire l'avversario,poi però arriva il comeback di Ricochet composto da una combo Springboard European Uppercut/Standing Shooting Star Press che è solo il preludio alla 630° Senton finale.
5)#1 CONTENDER MATCH FOR THE RAW TAG TEAM CHAMPIONSHIP:
THE REVIVAL VS WOKEN MATT HARDY&WOKEN BRAY WYATT RAW 16/04/2018 ***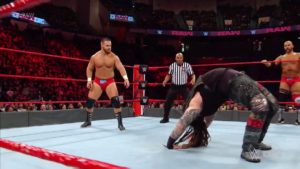 Contesa all'insegna del trashtalking e del mocking con Bray e Matt che sfruttano l'incontro per aumentare la loro alchimia,i Revival però non si lasciano mettere i piedi in testa e sfruttano manovre statiche al tappeto per ottenere un vantaggio,vantaggio che però dura poco,Sister Abigail su Dawson e Twist Of Fate assistita su Dash che vale l'1,2,3 vincente.