Carissimi lettori di The Shield of Wrestling, dopo la consueta influenza di fine novembre-inizio dicembre, il vostro caro vice direttore torna alla tastiera con un nuovo appuntamento di Pills of Wrestling. Buona lettura!
Oggi parleremo di uno degli argomenti ancora attuali, a distanza di anni, nei forum più importanti di tutto il mondo inerenti alla disciplina.
•WWF Championship Match: Shawn Michaels (c) vs "Stone Cold" Steve Austin – Wrestlemania XIV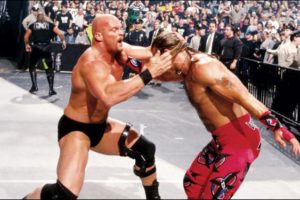 <<Ladies and gentlemen, you'll never forget this moment>>  Queste sono le parole pronunciate da Jim Ross al termine di questo storico match, che rasenta solo la punta dell'iceberg per quanto riguarda il declino di Shawn Michaels e il suo ritiro permanente dal pro wrestling. Un incontro solo buono dal lato lottato, ma unico per tutti i suoi contenuti.
•Pills of Wrestling – Climax
Partiamo dal fatto che la DX Band ha suonato dal vivo per Shawn Michaels, fino ad arrivare a Mike Tyson, special enforcer per l'occasione. Questi è stato decisivo per la vittoria di Steve Austin che ha sancito il vero inizio dell'Attitude Era. Tornando a Shawn, non era nuovo ai ritiri nemmeno in quell'epoca: nel '97 rese vacante il WWF Championship fingendo un infortunio al ginocchio, ma tutto ciò fu appunto studiato a tavolino dato che non volle concedere il job a Bret Hart in quel di Wrestlemania 13.
•Pills of Wrestling – La critica
Questa volta il suo ritiro, almeno secondo me, fu studiato decisamente meglio: le basi furono gettate alla Royal Rumble del '98, dove Shawn Michaels cadde accidentalmente su una bara, durante un Casket Match con Taker. HBK saltò l'In Your House successivo e decise – almeno secondo la storia – di fermarsi a Wrestlemania XIV. Ciononostante, si racconta che Michaels non fu molto contento di questa sconfitta, e che la WWF lo volesse fuori dalle competizioni per un bel po' di tempo. Shawn aveva parecchie dipendenze, fra cui figura anche quella di assumere pillole, quindi in molti pensano che la federazione abbia voluto rimettere in sesto il Sexy Boy Toy. Durante lo stop di 4 anni, infatti, Shawn ha ritrovato la fede nella chiesa e ha smesso con qualunque tipo di dipendenza, ciò l'ha aiutato moltissimo nel suo ritorno, avvenuto nel 2002.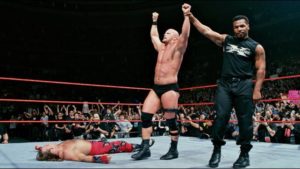 Insomma, come suddetto, un match che ha fatto la storia per più di un motivo.
Molti sono i pareri contrastanti e io sono curioso di leggere i vostri. Dalla base è tutto, have a nice day!