Carissimi lettori di The Shield of Wrestling,come ogni 15 del mese Tyler vi dà il benvenuto a Burning Hammer la nostra rubrica sul puroresu.
Sono successe tante bellissime cose in questo mese perciò le riassumerò in linea temporale
AJPW
Dopo la bellissima finale del Championship Carnival Kento Miyahara e Naomichi Marufuji ci hanno regalato una prestazione forse superiore arricchita dal titolo Triple Crown in palio ,il 29 maggio.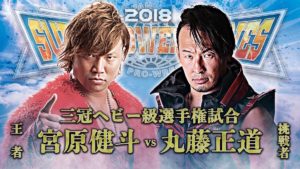 C'è poco da dire,consiglio caldamente di recuperare il match senza dubbio uno dei migliori dell'anno ed ennesima conferma di Kento come futuro della AJPW e del puroresu.Una AJPW che non riempiva un palazzetto così da tanto tempo e i due lottatori hanno ripagato alla grande.
Marufuji può davvero dire di aver affrontato chiunque sia passato : da Okada a Nakamura passando per Miyahara a Kenta e Kobashi.
NJPW
Dominion è l'argomento di cui parlerò nell'editoriale e lo dividerò in 3 parti per favorire meglio la divisione
la prima parte ha visto i tag team farla da padrone(Theodore Long Intensified)e tutto è andato come doveva andare.
i titoli jr tag sono rimasti nella Suzuki Gun e a questo punto non ci sono sfidanti,almeno in NJPW.
Juice Robinson ha schienato Jay White ottenendo così una shot al titolo US a San Francisco come prevedibile,mentre Minoru Suzuki & Zack Sabre jr hanno battuto Tomohiro Ishii & Toru Yano per sottomissione in previsione a Strong Style Evolved UK.Suzuki può essere un ottimo sensei per Zack e se lo migliora nelle sottomissioni non oso immaginare cos'altro potrebbe fare!
debutto amaro per Rey Mysterio jr in Giappone nel dream team con Hiroshi Tanahashi e Jushin "Thunder" Liger contro Cody,Marty Scurll e Hangman Page.Nonostante la bella prestazione di Mr.619,Cody connette con la Cross Rhodes su Liger vincendo. La sensazione però è che sembra che potremmo rivederlo ogni tanto in Giappone.
I match titolati sono stati di pregevole fattura.
Gli Young Bucks al primo colpo si sono presi i titoli di coppia da Sanada & Evil.Nella preview mi chiedevo cosa sarebbe cambiato nei Jackson,ecco la risposta:leggermente meno "flip"ma sempre tanta azione e dedizione.
i Bucks che a causa di un colpo alla gamba di Nick non riescono a finire la Meltzer Driver allora chiudono con un altra loro manovra peculiare:More Bang for your Bucks!
Will Ospreay vs Hiromu Takahashi è stato meglio di New Beginning con tutto il pubblico con il Tickin Time Bomb.
Dopo diverse reversal è il vincitore del BOSJ che chiude con la classica combo Death Valley al corner e Time Bomb.Ospreay chiude così un buonissimo regno e lasciandolo in altrettante buone mani mentre si parla addirittura di apparizione al G1 Climax!
Passiamo agli ultimi due match,forse i migliori colpi di booking da qualche anno a questa parte
Tetsuya Naito difende il titolo Intercontinentale da Chris Jericho in un bell'attire da "Arancia Meccanica".Buon incontro con Jericho che vince scorrettamente e diventa un 10 volte campione IC e il primo ad averli vinti sia in WWE che in NJPW! Ora però il rischio di un regno "alla Lesnar" è alto ,a San Francisco Y2J non ci sarà e vedere il titolo Intercontinentale fuori dal Climax sarebbe brutto,mi aspetto un regno che terminerà alla prima difesa
infine eccoci al match più atteso del ppv.Spesso lo critichiamo ma Gedo stavolta ha fatto la genialata,riconosciamolo:ha capito che Okada vs Omega avrebbe reso molto di più come serie che limitarlo ad un solo match a Wrestle Kingdom.La redemption di Kenny fino al ppv è stata ben congeniata mentre Okada batteva record e avversari. Arriviamo al match
Best 2 out 3 falls no time limit match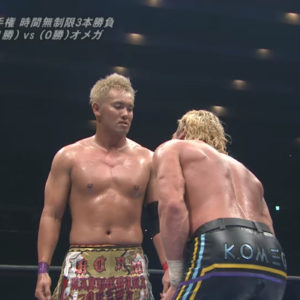 già la stipulazione è storica
Kazuchika Okada e Kenny Omega hanno costruito un eredità.Un match che potrebbe essere accostabile a Misawa vs Kobashi e Undertaker vs Micheals e ponibile in un elite(mai nome fu più azzeccato) di incontri oltre la classica valutazione.
65 minuti circa di azione,pathos,storytelling passando dal bellissimo video di Omega che già fa capire che stasera andrà lui "All in" fino all'abbraccio con gli amici di mille battaglie, Kota Ibushi e Young Bucks, nel post match.
È stato assolutamente un match indimenticabile,i 65 minuti più scorrevoli che abbia mai passato,abbiamo assistito alla storia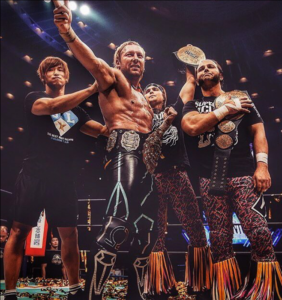 e ora?
Kenny difenderà il titolo in USA contro Cody ma in Giappone abbiamo prima il Kizuna Road in cui avremo il rematch tra Goto e Elgin e l'annuncio dei gironi del G1 Climax e l'attesa è tanta visti i nomi che sono rumoreggiati.
infine un momento per ricordare Mitsuharu Misawa
la foto dice tutto:Keji Mutoh nello show di ricordo della leggenda indica la foto dell'amico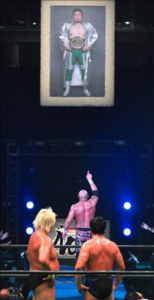 Burning Hammer termina qui ma tornerà a battere incandescente tra un mese
Arigato Kozaimasu!