Buon Sabato a tutti, amici di The Shield Of Wrestling, io sono Mirko "Ronoy" Mulas e siamo qui per una nuova puntata di Pills Of Wrestling. Buona lettura.
Anche in questa occasione vi racconteremo di un record che però, in questo caso, vede il protagonista dalla parte dei perdenti. Avvicinandoci a Wrestlemania non si può che raccontare un aneddoto riguardante proprio lo Showcase Of Immortals, che ci riporta all'edizione 2000 del fantastico PPV.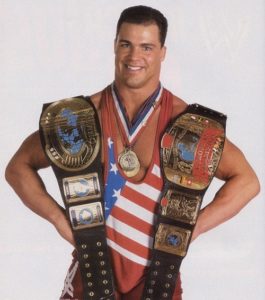 •The Loser Olympic Hero
La storia parte precedentemente, il debuttante Kurt Angle inizia la propria carriera in WWE con un filotto di vittorie e solo una sconfitta subita contro l'ex ECW Tazz. Nel febbraio del 1999, il vincitore della Medaglia d'oro ad Atlanta '96 riesce a vincere in rapida successione 2 cinture che gli conferirono il titolo di campione Intercontinentale e degli Stati Uniti. La gimmick del nativo della Pennsylvania riprendeva il concetto dell'eroe americano che diffondeva ideali patriottici. L'acquisizione di entrambe le cinture gli diede la possibilità di autoproclamarsi (lui solo fu l'unico a definirsi cosi) campione eurocontinentale.
Successivamente Angle iniziò a farsi accompagnare dal Ex Wrestler Bob Backlund che ebbe la brillante idea ( non digerita bene da Kurt che malmenò il proprio manager per questo) di accettare un Triple Threat Match per WrestleMania 2000. Il match avrebbe visto il doppio campione difendere entrambi i suoi titoli contro l'assalto di Chris Benoit e Chris Jericho. L'incontro ebbe un'ottima qualità nel lottato, cosa abbastanza ovvia visti gli interpreti che si scontravano all'interno del ring. Nella prima parte del match, in palio fu messa la cintura degli Stati Uniti che andò alla vita del tecnico wrestler di Montréal. La seconda parte, con Kurt già in ansia per aver perso il primo titolo, vide vincitore Jericho dopo un Moonsault ai danni di Benoit. Il lottatore olimpico si vide sfilare quindi anche la seconda cintura uscendo dall'arena a bocca asciutta. Angle divenne quindi il primo Wrestler della Storia ad aver messo in palio 2 cinture e a perderle entrambe nella stessa edizione di WrestleMania.
Il campione mondiale di lotta greco-romana ne ha fatta di strada da quel giorno, dominando per tanti anni anche in altre federazioni e diventando uno degli atleti più bravi al mondo venendo riconosciuto addirittura da Wrestling Observer Newsletter come miglior wrestler del XXI secolo.
Conoscevate questo aneddoto? Fatecelo sapere nei commenti e soprattutto suggeriteci un wrestler di cui volete conoscere qualche segreto, faremo di tutto per accontentarvi! Con questo vi saluto e vi do appuntamento al prossimo Sabato, sempre qui con The Shield Of Wrestling. Stay Tuned Brothers!!