Carissimi lettori di The Shield of Wrestling, ben ritrovati nel terzo appuntamento con Pills of Wrestling! Quest'oggi abbandoneremo il suolo americano e ci dirigeremo in Giappone, per narrare le gesta di uno dei migliori pro wrestler che la storia abbia mai visto. Buona lettura!
•Pills of Wrestling – Background
La AJPW è una delle federazioni più importanti all'interno della storia del Pro Wrestling mondiale. La sua notorietà deriva da molteplici fattori, ma il più importante è sicuramente il dato che riporta la sua completa dominanza in oriente dal 1972 fino alla morte di uno dei suoi  padri fondatori, Shohei "Giant" Baba. Quest'oggi però, non andrò a raccontarvi la storia della federazione, ma di come la Heavenly Kings Era ha avuto il suo inizio.
•Jumbo Tsuruta/Mitsuharu Misawa – What if The storm ends?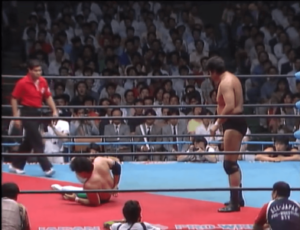 Mitsuharu Misawa è sicuramente l'ACE indiscusso nell'intera storia della All Japan Pro Wrestling. La sua interpretazione di Tiger Mask II fu un completo successo, ma dopo il volontario smascheramento, la leggenda ebbe inizio. Nel 1990 Mitsuharu affronta e sconfigge – decisione dell'ultimo minuto – Jumbo Tsuruta, l'uomo di punta della federazione. Il match è assolutamente consigliato, e difatti ve lo linko qui. Non ringraziatemi. Ad ogni modo, come la WWE gode di un effettivo inizio per l'Attitude Era, questo è l'inizio della Heavenly Kings Era. Kenta Kobashi, Mitsuharu Misawa, Toshiaki Kawada e Akira Taue – successivamente definiti come "Four Pillars of Heaven" – la fanno da padroni per l'intero decennio a venire. Misawa ha aperto la porta a tutti, consacrandosi come leggenda assoluta della disciplina.
Giunge al termine anche questo mini appuntamento, che ho voluto fare come esperimento e proporvi qualcosa di differente dal prodotto americano. Dalla base è tutto, alla prossima!