Carissimi lettori di The Shield of Wrestling, torna sui vostri schermi Indy Wrestler of The Week, l'appuntamento settimanale che elegge il wrestler extra WWE che più si è distinto durante gli ultimi 7 giorni. Buona lettura! 
•Indy Wrestler of The Week – Willie Mack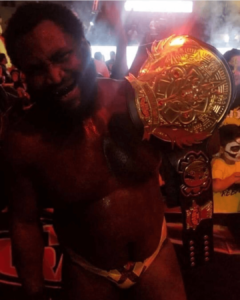 Lo scorso sabato si è tenuto il Crash's 7th Anniversary dell'omonima federazione, dove il titolo massimo, reso vacante da Rey Mysterio, è stato messo in palio. Willie Mack è riuscito a prevalere, al termine di un Fatal Four-Way match, su Michael Elgin, Barbaro Cavernario ed El Mesias, laurandosi secondo campione assoluto della federazione.
•Indy Wrestler of The Week – Curiosità
Rey Mysterio è la figura che ha fatto da ispirazione per la creazione del titolo. A causa dei recenti impegni WWE ha dovuto abdicare al trono con alle spalle un regno di circa un anno. Willie Mack ha risolto la questione e sul proprio profilo Instagram si è detto molto onorato di aver conquistato un titolo di Mr.619. Il wrestler di colore detiene anche l'NWA National Heavyweight Championship e l'HoH Television Championship. Periodo d'oro per lui.
Congratulazioni a Willie Mack. Io vi saluto e vi dò fra 7 giorni con IWOTW!