Popolo di The Shield Of Wrestling, benvenuti! Alla tastiera Alessandro "Jin" Leone per l'appuntamento settimanale con Indy Wrestler Of The Week!
INDY WRESTLER OF THE WEEK – JUNGLE BOY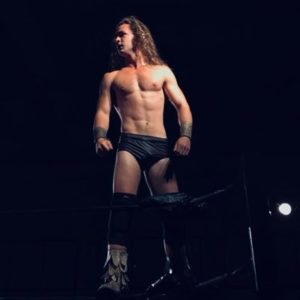 Un WrestleMania Weekend segnato, inevitabilmente, dall'hardcore. Il riconoscimenti di Indy Wrestler Of The Week al figlio di Luke Perry va per le prestazioni cristalline dopo un periodo difficile causato dalla scomparsa del padre, ma il riconoscimento va ad un'intera promotion: la GCW. Infatti, la Game Changer Wrestling ha organizzato tantissimi show durante questo periodo, ben quattro: Josh Barnett's Bloodsport, Orange Cassidy Is Doing Something Or Whatever Who Knows??? e le due parti del Joey Janela's Spring Break 3, con prima e seconda parte (denominata The Greatest Clusterfuck). Tutti questi eventi sono stati di qualità altissima, con dei livelli di durezza difficilmente raggiungibili.
Chi altro si è fatto notare?
Nick Cage si riconferma come il folle che conosciamo, sia in GCW che a casa sua, in CZW. Joey Janela è stato ad un passo dal vincere il trofeo. The Bad Boy non cambia mai. Un altro molto impegnato, e tristemente relegato a G1 Supercard solo nel kick off, è stato Jonathan Gresham. Come ben sappiamo, The Octopus è in grado di lavorare con chiunque in qualsiasi stipulazione. Altro nome relegato nel kick off dello show ROH ed NJPW è stato Minoru Suzuki, che si è praticamente ucciso contro Josh Barnett. Ovviamente non per le prestazioni in ring, Joey Ryan è stato, come prevedibile, uno dei nomi più caldi di questi giorni, non solo per il Penis Party. Ryan infatti vanta buoni rapporti con praticamente ogni promotion sulla faccia della Terra e non ha avuto problemi ad infilarsi in diverse card.
Come cambierà il mondo indipendente ora?
Diversi fan hanno individuato dei dirigenti WWE a svariati show, ad esempio William Regal a Bloodsport. Indubbiamente, la campagna per accaparrarsi nuovi nomi non è finita a Stamford, dato che, nonostante i già tanti arrivi dell'ultimo periodo, d'ora in poi ci sarà qualcun altro con gli occhi dappertutto: la AEW.