Dopo il suo addio risalente al mese di ottobre 2017, Neville ha gradualmente preso le distanze dalla WWE fino al suo rilascio ad agosto.
L'ex WWE Cruiserweight Champion ha fatto il suo ritorno sul ring in grande stile. Tutto ciò è avvenuto in Dragon Gate, all'evento Gate of Victory – Day 1, dove Neville ha attaccato BxB Hulk e si è unito a R. E. D.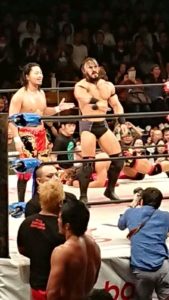 Qui sotto, la sua prima Red Arrow dal ritorno nel ring:
R.E.D. ARROW!!!!

PAC SPOILS SHINGO TAKAGI'S FINAL DRAGON GATE MATCH IN TOKYO!#DragonGate pic.twitter.com/LG9fSCxKdL
— 💀Ündead DaveBoy🎃 (@David_Stepp) October 2, 2018
Ed è stato annunciato il suo primo match.
Sarà parte di un 12-Man Tag Team Match, il 6 novembre al Korakuen Hall.
Set for November 6th in Korakuen Hall#NaturalVibes@kzy_time_ebe2 @ssm_yokosuka046
Genki Horiguchi
vs.#MaxiMuM@NarukiDoi
Masato Yoshino
Jason Lee
vs.#RED@bigrshimizu@ben_k_1019@WWENeville
vs.#TribeVanguard@yamato_oldtype
BxB Hulk@flamita_dtu#DragonGate

— Dragon Gate English (@DragonGateEN) October 2, 2018
Welcome Back, PAC!
L'ormai ex WWE non è nuovo alla promotion, difatti ci ha militato per svariati anni prima di approdare definitivamente ad NXT. Ha detenuto un Open the Brave Gate Championship, un Open the Twin Gate Championship con Dragon Kid, e un Open the Triangle Gate Championship.