Carissimi lettori di The Shield of Wrestling e amanti del Puroresu, ritorna sui vostri schermi Burning Forever, con un Phoenix decisamente felice di reportare il match che potrete leggere di seguito.
Background – Burning Forever
Budokan Hall, 12 settembre 2003. Dopo aver già sconfitto una stella della NJPW, Masahiro Chono, un'altra grandissima personalità della federazione di Antonio Inoki si pone sulla strada di Kenta Kobashi: Yuji Nagata. Il match è sensazionale – il mio preferito dell'intero regno – ed è classificabile come un puro 5 stelle. Buona lettura!
•GHC HEAVYWEIGHT CHAMPIONSHIP MATCH: KENTA KOBASHI (c) V. YUJI NAGATA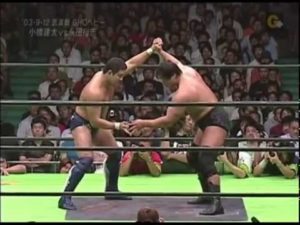 I due ci regalano un inizio spettacolare, scambiandosi colpi duri e sguardi di fuoco. Kobashi esegue il classico Delayed Vertical Suplex: solo 2. Continua la spettacolare fase di studio, che entra nel vivo con l'ardore dimostrato da Nagata, il quale connette un Overhead Belly-To-Belly Suplex sulla rampa d'ingresso. Scambio di colpi fra i due, Yuji applica la Fujiwara Armbar che viene rotta dopo pochi sforzi da Kobashi, il quale usufruisce delle corde. "Blue Justice" viene confinato all'angolo, ed è lì che subisce una serie di Machine Gun Chop, prontamente ricambiate dai calci di Nagata, che vengono connessi anche fuori.
Mr. IWGP applica nuovamente la Fujirawa, che per l'ennesima volta viene spezzata con facilità.
Scambio di Suplex caratteristici fra i due, che variano dal Dragon all"Exploder: tutti giù per terra! Kobashi-San viene messo in seria difficoltà e, per la prima volta in 4 difese titolate, sembra avere la peggio completamente: Backdrop Hold di Yuji: 1…2…NO! Il campione riesce ad uscire dalla Nagata Lock II, ma viene messo all'angolo, dove subisce una serie di calci tremendi.Kobashi si riprende, connette una Buckle Bomb e segue con il tipico Half-Nelson Suplex: 1…2…NON VA! Sleeper Suplex di Kenta: 1…2…le corde salvano Yuji!
Ci spostiamo poi sulla terza corda, dove dopo una battaglia intensissima, Nagata connette un Avalanche Exploder Suplex pauroso! 1…2…NOOOOO!
Kenta connette ben 12 Chop taglienti, subisce una serie di Enzuigiri Kick, ed è costretto ad inginocchiarsi dinanzi alla 'giustizia'. Nagata va con il Backdrop con Bridge: il conteggio non è cambiato. Siamo dunque arrivati alle battute conclusive, con Kobashi che esegue il suo Lariat: 1…2…INCREDIBILE! NON BASTA! BRAINBUSTER A SEGUIRE: 1…2…NAGATA RESISTE! KOBASHI SI CARICA, CONFERISCE FORZA AL SUO BRACCIO: LARIAAATOOOOO! 1…2…3!
VINCITORE E ANCORA CAMPIONE: KENTA KOBASHI
Con una sportiva e carismatica stretta di mano, si conclude anche questo appuntamento con Burning Forever. Un match così non lo rivedrete facilmente.
さようなら