CM Punk: il suo film approderà su Netflix. "Girl on the Third Floor" è un film horror del 2019, con CM Punk come protagonista, e sarà uno dei prossimi arrivi su Netflix USA.
Ora è possibile acquistare la prima rivista dedicata al wrestling italiano. CLICCA QUI!
CM Punk è uno dei personaggi del momento. Dopo essere tornato in un programma relativo alla WWE (WWE Backstage), sono esponenzialmente aumentate le voci di un prossimo ritorno ufficiale in WWE, magari come sorpresa del prossimo evento WWE Royal Rumble (2020) o in un match per WrestleMania 36.
Recentemente (25 Ottobre 2019), è uscito nelle sale statunitensi "Girl on the Third Floor", un film horror diretto da Travis Stevens e con CM Punk come protagonista. Il film racconta la storia di Don Koch, un ex-avvocato che cerca di ricostruire una nuova vita, al fianco di sua moglie Liz, incinta. Per farlo, acquista una vecchia casa nei sobborghi di Chicago, con l'intento di rinnovarla. Tuttavia, andrà incontro ad eventi sovrannaturali, all'interno della casa.
Si tratta del secondo film di CM Punk, dopo che Phil Brooks (suo vero nome) aveva recitato in Rabid (2019), remake del film horror del 1977.
La novità è che Girl on the Third Floor sarà uno dei prossimi arrivi su Netflix USA, il 22 Febbraio 2020. CM Punk, dunque, torna ad essere prodotto su Netflix, dopo essere stato uno dei volti della terza stagione di Ultimate Beastmaster, un reality show statunitense nel quale i concorrenti devono superare una corsa ad ostacoli (nota come The Beast) e nel quale CM Punk ha fatto la sua apparizione nell'Agosto del 2018.
Resta da vedere se CM Punk deciderà di dedicarsi unicamente al mondo del cinema o accontenterà i fan e tornerà su un ring della WWE.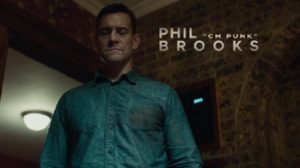 Se volete far parte della nostra community, entrate nel gruppo Telegram.