Carissimi lettori di The Shield of Wrestling, alla tastiera c'è il vicedirettore, Ciro "Phoenix" Gallotti pronto con un nuovo numero di "Pills of Wrestling". Buona lettura!
•Game Changer – Pills of Wrestling 
Come avrete ben capito, l'argomento trattato sarà inerente – e insolitamente – ad NXT. In un'epoca dove ormai lo show giallonero è la salvezza della stessa WWE, molti sono i fan occasionali che hanno perso l'occasione di ammirare dei capolavori nascosti, delle gemme che andrebbero viste e custodite nel proprio bagaglio personale. No, non sto parlando dell'evento in sé, che pur essendo il primo pay-per-view dell'intera storia di NXT non fu per nulla sfavillante. 3 match su 6 furono godibili e l'evento fece da preludio ai Takeover che avrebbero magnificamente innalzato la qualità del prodotto. In qualunque modo esso si voglia definire. Passiamo ai fatti.
•OPENER: ANTONIO CESARO V. SAMI ZAYN – Pills of Wrestling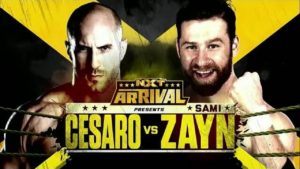 Fa strano anche a me inserire pillole che non siano vecchie almeno di vent'anni, ma questo incontro vale l'eccezione. Raramente un match entra nella mia mente, ciononostante, senza remore alcuna, posso dire che loro due hanno messo in tavola un qualcosa che personalmente mi ha emozionato. Una contesa che gode di uno storytelling lineare e completamente genuino; nessuna mossa scollegata o visivamente aberrante rende ancor più credibile tutto ciò. I due ex RoH mettono in piedi il primo ⭐⭐⭐⭐⭐ di NXT, aprendo la strada a tanti altri capolavori che inevitabilmente sono stati aiutati da questa "prova". Zayn, da perfetto underdog – e qui torniamo alla scorsa edizione di Pipebomb – mette in mostra tutta la sua tenacia che comunque si dimostra nulla in confronto ad un avversario del calibro di Cesaro. Il finale colpisce dritto il cuore e fa capire quanta dedizione e pazienza ci voglia per immergersi completamente in questo mondo fatto di incontestabili gerarchie.
Io vi saluto e v'invito a recuperare assolutamente quanto suddetto. 22 minuti ben spesi. L'appuntamento si rinnova fra 7 giorni, have a nice day!