Carissimi lettori di The Shield of Wrestling, alla tastiera c'è il vicedirettore, Ciro "Phoenix" Gallotti con l'ennesimo appuntamento di "Pills of Wrestling". Buona lettura! 
Royal Rumble sarà il prossimo grande evento della WWE e anche la rubrica alla quale state prestando attenzione si adeguerà. Difatti, da oggi fino alla settimana dove ci sarà il pay-per-view, POW si contraddistinguerà e porterà contenuti relativi all'evento preferito di molti fan della disciplina.
•THREE FACES OF FOLEY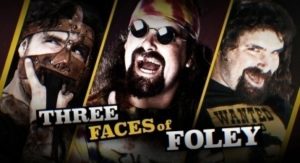 Oggi partiamo con qualcosa di decisamente leggero, ma al contempo geniale. Torniamo indietro di quasi 20 anni, precisamente alla Royal Rumble edizione 1998. Tralasciando la vittoria di "Stone Cold" Steve Austin – che raggiunge Shawn Michaels e Hulk Hogan con il record di due vittorie consecutive della rissa reale – e l'inizio del ritiro del tanto osannato Heartbreak Kid, c'è un piccolo siparietto che va a caratterizzare il piatto forte della serata. Come avrete ben intuito dal titolo, stiamo parlando di Mick Foley, che, durante l'intero svolgimento del Royal Rumble Match, venne eliminato ben tre volte con le rispettive gimmick che l'hanno reso famoso: Cactus Jack, Mankind e Dude Love. 
Una pietra miliare che per quanto basilare, applicata ad alcuni wrestler moderni, risulterebbe ancor più geniale e assolutamente originale. In primis il buon Finn Bàlor ne gioverebbe non poco e, con una possibile vittoria con le sembianze di "The Demon", andrebbe ad accentuare in modo inverosimile questa caratteristica che ad oggi resta un tabù che solo la WWE conosce.
Io vi dò appuntamento fra 7 giorni con Pills of Wrestling, ma vi aspetto puntuali domani con la review di Wrestle Kingdom 13. Have a nice day!