Buon Sabato a tutti, amici di The Shield Of Wrestling, io sono Mirko "Ronoy" Mulas e siamo qui per una nuova puntata di Pills Of Wrestling. Buona lettura.
Solo qualche giorno fa, durante una conferenza stampa, siamo venuti a conoscenza del fatto che uno dei più grandi atleti Giapponesi di tutti i tempi ha annunciato il proprio ritiro. Jushin Thunder Liger ha comunicato che nella prossima edizione di Wrestle Kingdom svolgerà il suo ultimo match, lasciando la disciplina lottata a 54 anni di età. In questo numero di Pills Of Wrestling vogliamo rendergli omaggio parlandovi di uno dei match più belli che lo hanno visto protagonista.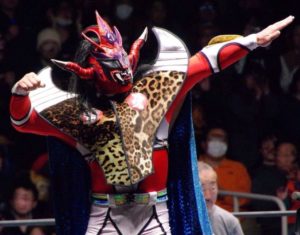 •The Little who became Great
Ci troviamo nel New Sumo Hall di Tokyo ed è il 13 Dicembre del 1995. Si sta svolgendo la Super J Cup, una competizione tra i migliori Pesi Leggeri che si è svolta solo in specifiche annate. Vi stiamo per parlare della semifinale di questa competizione che vede contrapposti due mostri sacri della categoria: Jushin Thunder Liger contro Ultimo Dragon.
Il match è una finale anticipata e alla sua fine il cronometro conterà ben 17 minuti. Nei primi frangenti i due atleti si studiano a vicenda alternando alcune prese a terra. Inizia un minuzioso lavoro sulle gambe da parte dei due. Puntando a destabilizzare l'avversario i primi 10 minuti volano via tra prese di sottomissione e molto rispetto. Il ritmo si accende quando Ultimo Dragon sposta la rissa fuori del ring colpendo Jushin con un Suicide Dive. Dopo una Senton, Liger si riprende e il suo comeback lo porta a una serie impressionante di mosse di potenza. Una Powerbomb seguita da un Vertical Suplex e un Piledriver non riescono a mettere KO il Dragone. Serie di Roll Up dei due che poi si spostano sopra uno dei quattro paletti. Liger prova una Suplex dalla terza corda ma il proprio avversario riesce a svignarsela. Dragon tenta La Magistral che però non gli consegna la vittoria. Negli attimi finali un Moonsault sbagliato da Ultimo Dragon da l'opportunità di vittoria a Thunder che mette a segno la propria Liger Bomb ma sono ancora solo 2. I wrestler sono visibilmente stanchi ma Dragon tenta ancora lo schienamento provato in precedenza che però viene modificato da Liger che lo usa a suo vantaggio per riuscire a vincere la contesa.
•A Great Cruiserweight
Thunder Liger si aggiudica un biglietto per la finale che poco più avanti vincerà, mettendo in bacheca uno dei tanti premi che ha guadagnato in carriera. Una vita in giro per il mondo, dal Giappone al Canada, dal Messico agli Stati Uniti, la carriera di questo Piccolo Grande uomo è stata costellata di successi. Un Peso Leggero che ha saputo reinventare la categoria e ha ispirato tantissimi wrestler venuti dopo di lui.
Con questo vi saluto invitandovi a farci sapere la vostra nei commenti! Vi do appuntamento al prossimo Sabato, sempre qui con The Shield Of Wrestling. Stay Tuned Brothers!!