Benvenuti cari lettori di The Shield Of Wrestling. Io sono Beppe "HBK" Ieno e oggi andremo ad analizzare insieme i punti più importanti della puntata di RAW che si svolgerà stanotte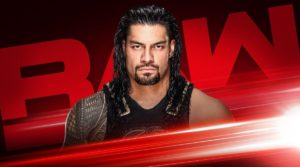 Nell'ultima puntata di RAW, Drew McIntyre ha sconfitto Seth Rollins nel main event (grazie anche all'intervento del campione universale Brock Lesnar), dimostrando di attraversare un periodo di grazia. Inoltre, lo scozzese sembra aver puntato il mirino sul grande amico del Kingslayer, ossia Roman Reigns. Il Big Dog accetterà l'invito di McIntyre? Ci sarà una sfida a WrestleMania 35 tra i 2 combattenti?
 WOMEN'S TAG TEAM CHAMPIONSHIP
Continua a regnare la confusione attorno ai titoli di coppia femminili, al momento nelle mani di Sasha Banks e di Bayley. Nelle ultime settimane però si sono fatte avanti diverse pretendenti, tra cui il duo samoano Tamina & Nia Jax e la coppia formata da Natalya e dalla rientrante Beth Phoenix. Inoltre, nell'ultima puntata di SmackDown le IIconics hanno ottenuto una vittoria importante proprio sulle campionesse. Ci saranno altre novità nella serata di RAW? Chi sfiderà Bayley & Sasha Banks nella notte del 7 Aprile?
ANDRE' THE GIANT MEMORIAL BATTLE ROYAL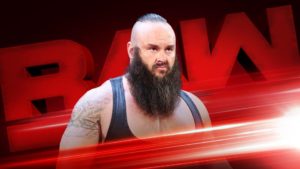 La scorsa settimana Braun Strowman ha ufficializzato con un promo la sua iscrizione nella consueta "Andrè The Giant Memorial Battle Royal" di WrestleMania, appuntamento ormai fisso dall'edizione numero 30. Stasera avremo nuove iscrizioni all'interno dell'incontro? Ci sarà qualche sorpresa?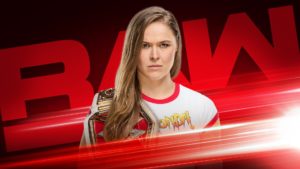 Continua a far parlare di sé la campionessa di RAW Ronda Rousey, che nell'ultima puntata dello show rosso, oltre a mantenere la cintura sconfiggendo in tempi brevi Dana Brooke, ha attaccato gli arbitri che provavano a fermare l'iniziativa dell'ex UFC, facendosi aiutare anche dal marito. La dirigenza prenderà provvedimenti su quanto accaduto di recente?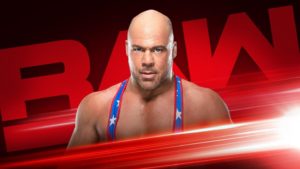 Ormai agli sgoccioli nella sua lunga carriera in WWE, Kurt Angle, dopo aver selezionato Baron Corbin come suo ultimo avversario nello Showcase of Immortals, avrà un altro avversario da affrontare stanotte?
Nell'ultima puntata, Braun Strowman è stato calmato da Alexa Bliss per i piani di WrestleMania, con la Goddess che ha promesso qualcosa in cambio al gigante. Che piani ha la 5 volte campionessa femminile?