Bentornati cari lettori di The Shield Of Wrestling a questo nuovo appuntamento con gli Ups And Downs di Smackdown Live, a tal proposito TheLegitBoss vi farà un resoconto dell'ultima puntata.
Partiamo subito con i punti positivi!
UPS:
1) "THE RISE OF EL ÍDOLO"
Nella puntata di Smackdown Live, Andrade "Cien" Almas ha battuto Rusev dimostrando ancora una volta le sue capacità, inoltre ho avuto la sensazione che questa vittoria dopo la buonissima prestazione contro AJ Styles di settimana scorsa possa fare parte di un push futuro verso il Main Event, staremo a vedere.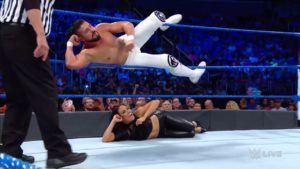 2) "THE IRISH LASS KICKER IS COMING FOR YOU!"
Becky Lynch ha dunque sconfitto Carmella guadagnandosi un'opportunità per il titolo femminile dello show blu a Summerslam, sarà la volta buona per rilanciare finalmente l'irlandese? Serve una scossa alla categoria femminile di Smackdown.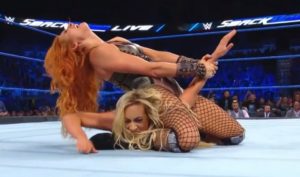 Passiamo dunque ai punti negativi!
DOWNS:
1) "I DID IT BECAUSE OF YOU"
La puntata dello show blu si è aperta con un promo di Randy Orton, quest ultimo ha spiegato il motivo dell'attacco a Jeff Hardy, The Viper ha affermato che lo ha fatto per colpa del pubblico, "i busted my ass for sixteen years for you people", per alcuni questo è stato un grandissimo promo, sinceramente per me è stato il nulla, "i don't get the respect i deserve", really Randy? Sappiamo tutti perché sei lì e perché hai vinto tutti quei titoli pur non meritandoli.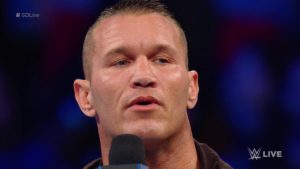 2) "YOU TRY TO STEAL MY SPOTLIGHT?"
Nel Main Event della puntata di Smackdown Daniel Bryan ha cercato di attaccare The Miz senza riuscirci, anzi, è stato lui a subire la Skull Crushing Finale, il magnifico ha poi affermato che Bryan continua ad attaccarlo perché è alla disperata ricerca di quei riflettori che non ha mai avuto, sinceramente non riesco a capire se la WWE stia facendo tutto ciò perché non sicura del rinnovo di Daniel, anticipando dunque il feud, o semplicemente perché deve aggiungere dei match alla card di Summerslam senza curarsi tanto della costruzione di un feud, vabbè, staremo a vedere.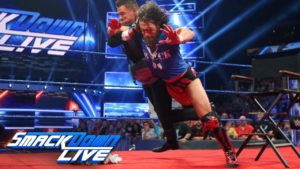 Si chiude qui questo appuntamento con gli Ups And Downs riguardanti lo show blu, alla prossima!