Questa notte abbiamo assistito all'ultima puntata di Smackdown Live, che a quanto pare ha offerto un paio di spunti interessanti per il futuro e qualche match godibile. Alla tastiera, come sempre, c'è il vostro Phoenix che freme dalla voglia di scrivere riguardo un certo argomento.
DOWNS:
Onestamente? Non ho sinceramente trovato dei punti negativi così giganti da menzionare. Di sicuro abbiamo raggiunto un'alta mediocrità con il match che ha visto protagonista i The Bar, i Good Brothers e i Colons, idem per Naomi vs Billie Kay, ma la WWE ci ha decisamente abituato a materiale peggiore nell'ultimo periodo.
UPS:
•BECKY LYNCH'S REVENGE, ACT II – Smackdown Live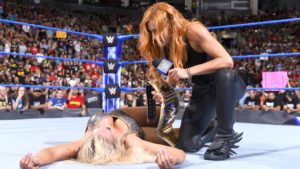 Questo feud è sbagliato. Dannatamente sbagliato. A tratti onirico data la sua estetica poco realistica. I ruoli dovrebbero essere inversi e, soprattutto, il Triple Threat femminile di Summerslam avrebbe dovuto vedere una campionessa diversa. Ciononostante, Becky con questa attitude non è odiabile, il contrario. Come si può odiare una tizia che, seppur in storyline, distrugge la figlia di papà "raccomandata" dando voce anche a quelli muniti di semplice talento? Non si può. È questo il punto: almeno per ora, Becky Lynch non si può minimamente detestare, nemmeno in chiave mark. Nulla può ormai salvare l'impostazione iniziale della faida, nemmeno un doppio turn alla Stone Cold/Bret Hart. Si spera almeno in un lieto fine.
•EL IDOLO V. THE AMERICAN DRAGON – Smackdown Live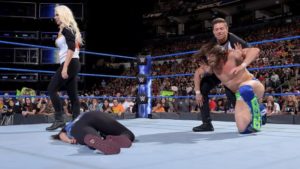 Match non di ottima fattura ma divertente da guardare. Voi mi direte: ma un first time ever sprecato così? Si, non c'è problema, date anche le circostanze con il quale si è venuto a creare. – Paige, te se ama, però un po' di concentrazione in più non guasta mai. – ad ogni modo, il post match è stato parecchio coerente e a Hell in a Cell ci si aspetta un incontro molto più combattuto dei soliti Mixed Tag Team Match made in WWE.
•Considerazioni finali – Smackdown Live
Puntata abbastanza solida, con match divertenti da guardare e non troppo pallosi come al solito. Promo scorrevoli, qualche trovata originale e un pizzico di hype in vista di HIAC hanno fatto da perfetta cornice a questa puntata che, a parer mio, ha superato quella di Monday Night Raw.
A voi? Com'è sembrata la puntata? Ovviamente diteci la vostra nei commenti. Goodbye and Goodnight!