Nuovi match inseriti per l'evento WWE Super Show Down che si terrà a Melbourne,Australia, nel prossimo Ottobre.
Come riportato da Wrestling Observer,dopo la messa in onda di Raw, è stato annunciato, sul canale Twitter della WWE, un nuovo match. Il match in questione vede contrapposti da una parte lo Shield, dall'altra il team composto da Braun Strowman, Dolph Ziggler & Drew McIntyre. I due team si affronteranno in quel di WWE Super Show Down. La costruzione del match risale a ciò che è avvenuto durante il main event dell'ultima puntata di Raw.  Il main event è stato un match di coppia che vedeva contrapposti Roman Reigns & Braun Strowman contro Dolph Ziggler & Drew McIntyre. Ed è stato proprio il "Monster Among Men" che, con una testata, ha tradito il proprio partner. A quel punto Reigns si trova in balia dei propri avversari. Il resto dello Shield accorre per aiutare il proprio compagno ma non è bastato. La puntata termina con Strowman che atterra tutti e tre i membri dello Shield con la sua Powerslam.
Quale altro match è stato aggiunto alla card di Super Show Down?
L'altro match pubblicizzato per l'evento che si terrà in Australia è tutto al femminile con protagoniste Ronda Rousey, le Bella Twins  e la Riott Squad. L'attuale Raw Women's Champion farà squadre con le Bellas nel tentativo di sconfiggere il team capitanato da Ruby Riott. Per questo motivo, settimana prossima a Raw, assisteremo al ritorno lottato delle Bellas. Dunque, ecco la card aggiornata di WWE Super Show Down: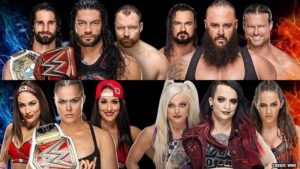 The Undertaker Vs Triple H
John Cena & Bobby Lashley vs Elias & Kevin Owens.
Ronda Rousey & Bella Twins vs Riott Squad.
The Shield vs Braun Strowman, Dolph Ziggler & Drew McIntyre.
Daniel Bryan vs The Miz dove il vincitore avrà una futura Title Shot per il titolo WWE attualmente detenuto da Aj Styles.