L'ex WWE World HeavyWeight Champion Of The World, Batista, rompe finalmente il silenzio su quello che si vociferava fosse solo un fuoco di paglia.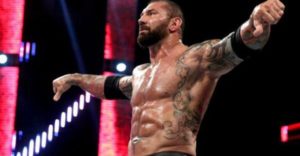 Il precedente stint di Batista non ha lasciato nei fan un buon ricordo.
Sembra passata una vita da quando non vediamo effettivamente il vero Batista in azione all'interno di quel ring. E pensare che sono passati solamente quattro anni dal suo ultimo stint ufficiale in WWE. In quel ormai lontano 2014 l'animal era tornato alla grande, vincendo il Royal Rumble Match, entrando col numero 28 eliminando  come ultima superstar nientemeno che  Roman Reigns, colui che avrebbe vinto la Rumble dell'anno dopo. Secondo i piani originali, avrebbe dovuto vincere il WWE World HeavyWeight Championship in quello che sarebbe stato il main event di WM 30 contro l'allora campione Randy Orton. Ma sappiamo tutti come andò a finire. L'animale allora fu messo in una rivalità contro lo Shield considerata di "ripiegò". Dopo aver perso questa rivalità (inevitabile ai fini di storytelling e per lo split finale dello Shield che poteva finalmente cosi avvenire) ha deciso di abbandonare la compagnia. Cosi, accantonata la sua carriera da Wrestler, Dave Bautista ha potuto iniziare una carriera nel cinema come attore. infatti è celebre principalmente per il ruolo di Drax in Guardiani della Galassia.  Ecco a voi riportata una parte delle dichiarazioni di Batista durante il Podcast di Sky Sport:
Le dichiarazoni :
"Sono molto orgoglioso di poter dire che non ho mai spezzato i fili che mi legano alla WWE. Ci teniamo sempre in contatto. Il Wrestling mi manca molto. Mi manca il calore del pubblico, mi manca il feedback immediato, mi manca l'adrenalina che ti pervade in tutto il tuo corpo prima e durante un match. E' una cosa che appartiene a me, mi manca il wrestling. Se ci saranno le condizione adeguate, sarò ben lieto di ritornare in WWE."
Cosa succederà ora?
Potremo assistere intanto al ritorno di Dave Bautista nelle sale cinematografiche con il suo nuovo film "Final Score" questo 14 Settembre. Mentre invece di Batista dovranno aspettare ancora un pò. Ma una cosa è certa. Con SmackDown 1000 dietro l'angolo, c'è una probabilità elevata di vedere Batista tornare durante il corso di questa puntata, e chissà, magari anche in pianta stabile per un pò.