Bentornati cari lettori di The Shield Of Wrestling ad un nuovo appuntamento con la rubrica #BestMatchesOfTheWeek, come sempre a cura del vostro TheLegitBoss.
Di seguito vi riportiamo la Top 5 facente parte della rubrica #BestMatchesOfTheWeek.
1) INTERCONTINENTAL CHAMPIONSHIP OPEN CHALLENGE MATCH: SETH ROLLINS (C) VS DOLPH ZIGGLER MONDAY NIGHT RAW ( 18-06-2018 ) ***3/4
Dolph inizialmente grazie anche alla presenza di Drew a bordo ring riesce a dominare l'incontro per alcuni minuti, lo Show Off continua a lavorare il proprio avversario al collo rincarando la dose con una Neckbreaker, il campione reagisce eseguendo una Sling Blade e il classico Suicide Dive, Seth sfiora la vittoria grazie al Revolution Knee, lo stesso per Ziggler con la Fame Asser, nel finale Dolph reversa un roll-up illegale di Rollins e incredibilmente vince incontro e titolo.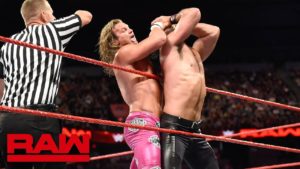 2) #1 CONTENDER FOR CRUISERWEIGHT CHAMPIONSHIP TRIPLE THREAT MATCH:
HIDEO ITAMI VS MUSTAFA ALÌ VS BUDDY MURPHY 205 LIVE ( 19-06-2018 ) ***3/4
Inizio caratterizzato dalla voglia di Mustafa e Murphy di prendersi una rivincita su Itami, Alì sembra essere in vantaggio mettendo in mostra anche un fantastico volo all'esterno del ring ma Itami prende il controllo grazie ad una ginocchiata, l'intervento successivo di Murphy genera uno scontro molto stiff con il nipponico, lo stesso Murphy va vicino alla vittoria eseguendo un German Suplex con ponte ma non basta, Mustafa decide di mettersi in proprio eseguendo una Reverse Hurricanrana e sfiora la vittoria grazie alla 054 ma Buddy interrompe lo schienamento, ci spostiamo sul tavolo di commento ed Alì esegue una fantastica SPANISH FLY! nel finale però Itami fa impattare Alì contro il paletto esposto ed esegue un Running Dropkick che vale la vittoria.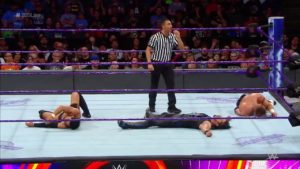 3) LINCE DORADO VS DREW GULAK 205 LIVE ( 19-06-2018 ) ***1/4
Inizio caratterizzato dalla velocità di Dorado e dalla tecnica di Drew, quest ultimo prende subito il comando delle operazioni costringendo l'avversario ad una sofferenza di alcuni minuti, Lince prova un comeback grazie al Dropsault e alla Golden Rewind ma non basta, nel finale le distrazioni sono fatali al lottatore mascherato che si becca la Gu-Lock decisiva.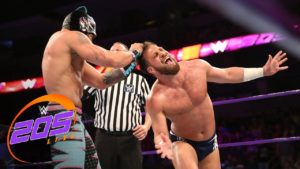 4) SASHA BANKS E BAYLEY VS SARAH LOGAN E LIV MORGAN (WITH RUBY RIOTT) MONDAY NIGHT RAW ( 18-06-2018 ) ***1/4
Bayley parte in maniera aggressiva ed esegue un Running Bulldog ai danni di Sarah, continui disguidi tra le due face che però sembrano comunque in controllo, fase statica del match con il duo heel in vantaggio, Sasha riesce a prendersi il cambio ed esegue il suo classico comeback composto da Dropkick e la Meteora, nel finale varie interferenze, la Boss prova il Bank Statement ma Liv la schiena di rapina trattenendole il costume via roll-up.
5) SMACKDOWN TAG TEAM CHAMPIONSHIP MATCH: THE BLUDGEON BROTHERS (C) VS KARL ANDERSON & LUKE GALLOWS SMACKDOWN LIVE ( 19-06-2018 ) ***
Match dominato per gran parte del tempo dai campioni che isolano Gallows e non permettono a Anderson di entrare nel ring, Luke però riesce a trovare una falla nel piano offensivo dei rivali e chiama in causa il suo compagno che va vicino alla vittoria eseguendo una Spinebuster, nel finale Rowan scaraventa Gallows oltre le barricate e poi insieme ad Harper finiscono Anderson con la Bludgeoning.