Carissimi lettori di The Shield of Wrestling, siamo ormai giunti al decimo appuntamento con Burning Forever, la rubrica settimanale che porta sui vostri schermi il leggendario GHC Heavyweight Reign di Kenta Kobashi.
•Background – Burning Forever
10 luglio, 2004: ci troviamo, in via del tutto eccezionale, al Tokyo Dome. Più di 58.000 persone presenti nell'arena. Oggi vi racconterò uno scontro molto fiabesco, che ha come incipt "Old School v. New School". I due avversari si conoscono molto bene, entrambi sono dei punti di riferimento all'interno della Pro Wrestling NOAH e quest'oggi metteranno in tavola il miglior match dell'annata 2004. Buona lettura!
•GHC HEAVYWEIGHT CHAMPIONSHIP MATCH: KENTA KOBASHI (c) V. JUN AKIYAMA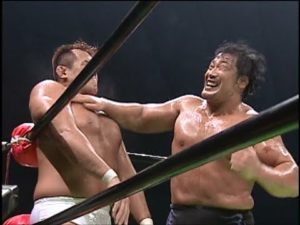 Il match ingrana la quarta fin dall'inizio, con i due rivali che si danno alla pazza gioia con delle prove di forza. Dopo uno scambio di colpi, vinto apparentemente da Kobashi, Jun resta a bordo ring per prendere fiato. Una volta risalito su, parte uno scambio cruento di Elbow Smash e Chop, anche 'sta volta finito in favore di Kenta. Akiyama inizia a lavorare gli arti inferiori del suo avversario, usando sia tecniche sottomissive che semplici ingranaggi a terra. Kobashi si libera agilmente con delle Chop dirette alla nuca, che fanno collassare il povero Jun.
In modo del tutto imprevedibile, il nostro campione esegue precocemente la Burning Sword, che non sortisce gli effetti desiderati. Ci riprova, ma l'effetto non cambia. 
Akiyama reagisce benissimo a tutti i colpi subiti, tant'è che intercetta un attacco aereo di Kobashi con una ginocchiata ben piazzata. Kenta viene posizionato a metà busto sull'apron ring e subisce un Flying Knee Strike che lascia il segno. Ne segue una piccola fase abbastanza statica, dove entrambi si concentrano prevalentemente sul lavoro a terra. Kenta si libera dalle molteplici prese di Jun e lo proietta all'indietro con un Half-Nelson Suplex, per poi continuare l'offensiva con le Machine Gun Chop; il tutto si conclude sull'apron ring, dove il Tetsujin esegue un tremendo Vertical Suplex.
Torniamo all'interno del quadrato e l'azione viene replicata, riscontrando un conto di 1. Kobashi riprova con il suo Lariat, ma non c'è assolutamente nulla da fare.
Kenta va a vuoto con la Burning Hammer e si becca un German Suplex, prontamente seguito da una ginocchiata in corsa. Ci ritroviamo per l'ennesima volta sull'apron ring, il Tetsujin sale dalla seconda corda ma Jun, ricorrendo ad uno sforzo enorme, mette a segno il suo Exploder '98: 1…2…NO! Jun cerca di ripetersi e ci riesce perfettamente, ma anche 'sta volta il conto non arriva a 3. Akiyama non demorde, mette a segno un terzo Exploder '98, ma di ripicca si becca la Brainbuster micidiale del nostro campione. Scambio accesissimo di Suplex fra i due, Akiyama cade dopo un Lariat(oooooo) e dà la possibilità a Kobashi di eseguirne un altro: ancora 2! Kenta mette a segno addirittura un Moonsault ma non basta, quindi si carica e ricorre alla manovra suprema…BUUUURNIIINNNNG HAAAAAMMMEEEER!!! 1…2….3!!!
VINCITORE E ANCORA CAMPIONE: KENTA KOBASHI
Una delle miglior difese titolate di Kenta Kobashi senza dubbio alcuno. Il lavoro al tappeto è decisamente sublime, seppur possa risultare statico in un primo momento. Kobashi viene messo all'angolo come mai successo prima, deve addirittura ricorrere al Burning Hammer per archiviare questa situazione. Un grandissimo plauso anche a Jun, che a volte viene visto come il "bambino in mezzo agli adulti" – definizione corretta in svariate circostanze – ma in questa situazione si è dimostrato un vero professionista.
Il martello cade. Io vi dò appuntamento fra una settimana per scoprire le sorti di Kobashi-San.
さよなら