Carissimi lettori di The Shield of Wrestling, siamo ormai giunti alla quarta edizione di Burning Forever e in tavola abbiamo un match che potrebbe interessare anche agli amanti dei Big Man! 
BACKGROUND – Burning Forever
Intercontinental Conference All. 26 agosto, anno 2003. Sventato il pericolo denominato "Masahiro Chono", Kobashi-San percorre inverecondamente il cammino davanti a sé, 'sta volta incrociando la strada del compianto Bison Smith, scomparso 8 anni dopo questo incontro. Oggi Burning Forever vi offre la possibilità di rivivere il match – forse – più fisico del regno dell'eccellenza. Buona lettura!
•GHC HEAVYWEIGHT CHAMPIONSHIP MATCH: KENTA KOBASHI (c) V. BISON SMITH
Come ogni match basato sulla forza che si rispetti, i due partono in quarta per poi sostenere una prova di forza, vinta da Bison che proietta Kobashi alle sue spalle. Intanto, con immenso piacere, notiamo che, seduto fra il pubblico e con indosso un candido smoking bianco, c'è Yuji Nagata. C'è una fase di stallo da ambo le parti, che porta ad uno scontro frontale al di fuori del ring, con Smith che vola letteralmente oltre le barricate grazie ad una Chop. Si torna dentro con un Delayed Vertical Suplex di Kenta: solo 2. Il Gaijin allontana nuovamente il suo avversario dal ring, per poi connettere una Flying Shoulder Block tremenda.
Lo scontro prosegue all'esterno del ring, dove il campione si becca una Powerbomb e anche una Chokeslam che addirittura spacca un tavolo. 
Kobashi rischia di essere contato fuori, ma Bison non lo permette e difatti opta per uno schienamento: 1…2! Scoop Slam: Kobashi alza la spalla prima del 3! Kenta si libera da una Camel Clutch, ma da questo momento in poi si trova costretto a restare al tappeto riuscendo ad accennare piccole reazioni, ma mai nulla di concreto. Smith va a vuoto con la sua Clawhold… SPINNING BACKFIST DI KOBASHI! CERCA IL LARIAT… CLAWHOLD DI SMITH APPLICATA! ANCHE KOBASHI FA LO STESSO! CI TROVIAMO IN BILICO! SMITH LA TRAMUTA NELLA FEDELE STO: 1…2…NOOOO! Ci troviamo sulla terza corda, Kobashi è stremato, cerca di resistere ma Bison esegue una Frankensteiner: il conteggio resta invariato dai precedenti.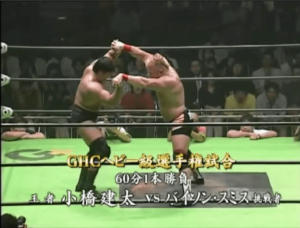 Arriviamo dunque alla fase conclusiva e più intensa del match. 
Rieccoci nuovamente sulla corda più alta del ring, dove Kobashi riceve un'altra pericolosa manovra: un Avalanche Clawhold: Kenta ricorre al suo Fighiting Spirit e riesce a rimanere vigile. Bison riprova la Cla..German + Half Nelson Suplex dell'attuale GHC Heavyweight Champion!VA PER CHIUDERE…NO! DI NUOVO LA CLAWHOLD, 'STA VOLTA CON L'AUSILIO DI UN STO: 2! Smith appare molto stanco, tant'è che ricorre alla sua Bisontennial (Belly to back inverted mat Slam): NON È POSSIBILE! SOLO 2! CLAWH..  LARIAT DI KOBASHI!! SERIE DI CHOP, HALF-NELSON SUPLEX: 1…2…NOOO! Kobashi ha deciso che vuole finire letteralmente il suo avversario, lo carica e connette un Half-Nelson Suplex! UN ALTRO! ANCORA UNO, E ANCORA UN ALTRO! LARIAAAATOOOOO! 1…2…3!
VINCITORE: KENTA KOBASHI
Nel post match Yuji Nagata va faccia a faccia con Kenta Kobashi, dato che il prossimo match di Burning Forever vedrà loro due come protagonisti. Piccolo spoiler: è il mio incontro preferito mai fatto in NOAH, ovviamente dopo il famoso Kobashi-Misawa. Dunque non perdetevi il prossimo appuntamento, che sarà parecchio speciale!
さようなら