Carissimi lettori di The Shield of Wrestling, Phoenix è alla tastiera, 'sta volta in veste di editorialista-reporter. Burning Forever ha lo scopo di farvi rivivere, tramite report e in 15 appuntamenti settimanali, quello che – a parer mio – è il regno più entusiasmante di sempre. Non credo ci sia bisogno di aggiungere altro, iniziamo!
Siamo al Budokan-Hall di Tokyo, in Giappone, dove la NOAH sta svolgendo l'annuale evento "Navigation for Evolutivon". Anno 2003. Kenta Kobashi e Mitsuharu Misawa, rispettivamente accolti dalla folla con i tipici cori, si apprestano a regalarci quello che viene ancora oggi definito "il miglior match di tutti i tempi".
GHC HEAVYWEIGHT CHAMPIONSHIP MATCH: MITSUHARU MISAWA (C) V. KENTA KOBASHI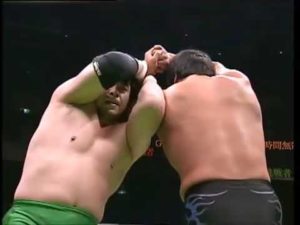 L'incontro prende vita con una fase di studio iniziale parecchio gradevole; i due fanno capire il carico delle cose, scambiandosi manovre basilari e un near fall da parte di Kobashi. Parte dunque una fase più complessa, che vede Misawa lavorare il braccio sinistro di Kobashi, per poi costringerlo ad uscire dal ring in seguito ad un devastante Saito Suplex. Kenta viene poi raggiunto dopo un Flying Forearm Smash di Misawa, il quale rincara la dose con una Somersault Senton. Torniamo all'interno del ring, dove Mitsuharu esegue un Missile Dropkick, prontamente seguito da un Frog Splash: solo 2. Kobashi esce da una sottomissione al braccio, successivamente lavorato a lungo con vari colpi, che costringono l'ex AJPW a stare al tappeto. Il Tetsujin esce di nuovo dal ring dopo un Dropkick, venendo poi raggiunto nuovamente da Misawa, questa volta proiettato contro le barricate. Questo gli costerà un taglio al mento. Kobashi approfitta della cosa, connettendo un Half-Nelson Suplex all'esterno del ring. Torniamo dentro con un Delayed Frontal Suplex di Kenta: 1…2! Parte uno scambio di Chop, Kobashi ha la meglio grazie ad un Leg Drop Bulldog, che non gli concede la vittoria. Lo scontro si sposta sulla rampa d'ingresso, dove il campione subisce un importante DDT: 1…2! Serie di colpi da parte di Kobashi, che applica una Total Body Full Nelson Lock, rotta dallo stesso per eseguire varie Chop, che non sembrano scalfire Misawa! Back Drop da parte di Kobashi! 1…2…NO! German Suplex di Misawa! TIGER SUPLEX! KOBASHI NON CEDE! SCAMBIO DI COLPI, ENTRAMBI VANNO GIÙ! TIGER DRIVER DI MISAWA:1…2…NOOO! TIGER SUPLEX: ANCORA 2! IL PUBBLICO RESTA ESTASIATO! Misawa esegue un'altra Tiger Driver, anch'essa non congeniale alla vittoria. Half-Nelson di Kobashi, seguito prontamente da un devastante Sleeper Suplex. Ci facciamo spazio all'interno di una fase durissima: Kobashi connette il suo tipico Lariat, che gli concede quasi un conto di 3. Misawa, dal canto suo, esegue un Suplex che proietta Kobashi sulla rampa d'ingresso, per poi stenderlo con un Suicide Dive. TIGER SUPLEX DALLA RAMPA! I DUE IMPATTANO AL SUOLO INERMI! 1…2…NO! I due continuano a studiarsi, fino alla Emerald Flowsion di Misawa, che incredibilmente si ferma al conto di 2. Tiger Dr… No! Kenta continua ad eseguire manovre importanti, senza però riuscire ad aggiudicarsi la contesa. Ci apprestiamo ad assistere al finale, dove Kobashi, facendo ricorso al Fighiting Spirit, esegue la Burning Hammer che gli fa guadagnare il GHC Heavyweight Championship.
VINCITORE E NUOVO CAMPIONE: KENTA KOBASHI 
Emozioni indicibili ripercuotono l'arena. Kobashi-San ce l'ha fatta, ha battuto il suo eterno amico/rivale in un single match. Che strepitoso inizio per Burning Forever.
Vi dò appuntamento a domenica prossima per continuare questa fantastica avventura targata Burning Forever. Arigatou Gozaimasu!