BURNING HAMMER #3
Carissimi lettori di The Shield of Wrestling, Phoenix è alla tastiera e vi annuncia un cambio di programma: Burning Hammer da oggi sarà diretto dal sottoscritto, a causa dell'abdicazione di Tyler per problemi personali; a nome di tutti: Arigatou Gozaimasu!
Passiamo però agli eventi che negli ultimi 30 giorni hanno sconvolto il Giappone:
•KENTA, ONE MORE TIME!
Ebbene si, come vi avevamo già riportato tempo addietro, KENTA aka Hideo Itami tornerà in Giappone per un match contro uno dei suoi eterni rivali, Naomichi Marufuji. Il tutto si svolgerà il 1° settembre, al Sumo Hall in occasione del 20esimo anniversario del "NOAH's Genius".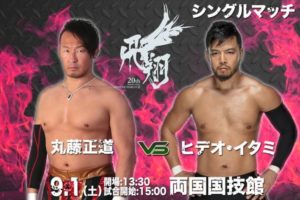 I due, come già sopracitato, hanno battagliato in diverse occasioni, ma la più celebre resta la difesa dell'GHC Heavyweight Championship di Naomichi ad Autumn Navigation del 2006. Se non l'avete ancora visto, vi faccio un favore e lo lascio qui.
•LITERALLY RAINMAKER
A proposito di anniversari, il 30th Anniversary di Minoru Suzuki si è svolto in due giornate, ovvero fra il 23 e il 24 giugno. A rendere piacevole l'evento, oltre al nome -Great Pirates Festival, un chiarissimo riferimento a One Piece, abbiamo assistito ad un accaduto unico nel suo genere: Kazuchika Okada, ordinariamente definito "Rainmaker", si è esibito in un'entrata sotto la pioggia, che ha reso il tutto più affascinante e pittoresco.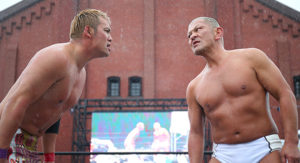 Parlando del main event della prima giornata, che appunto vedeva Kazuchika Okada v. Minoru Suzuki, sicuramente è stato di pregevole fattura ed è finito nel più classico dei modi: un pareggio dopo ben 30 minuti di pura lotta.
L'evento si è concluso con la vittoria del team composto da Minoru Suzuki, Funky Kato, Hikaru Sato, Rocky Kawamura & Hiroyo Matsumoto a discapito di Sanshiro Takagi, Jun Kasai, Aja Kong, NOSAWA Rongai & MAZADA.
•NJPW: G1 IN SAN FRANCISCO
Passiamo a fatti più recenti, risalenti al 7 luglio. La NJPW approda a San Francisco, mettendo in tavola match appetibili come un durissimo Never Openweight Championship match tra Hirooki Goto (c) e Jeff Cobb. Ecco i risultati più importanti dell'evento:
•Gli Young Bucks (c) battono i Los Ingobernables de Japon dopo un match entusiasmante, riuscendo quindi ad imporsi come campioni della categoria massima.
•Hirooki Goto difende il suo Never Openweight Championship dall'assalto di Jeff Cobb. Piccola nota: match sicuramente apprezzabile nel suo piccolo, ma avrei preferito una contesa più duratura e stiff visti gli atleti coinvolti. Spero vivamente in una seconda chance.
•Hiromu Takahashi torna a causa vincente e dolorante, battendo Dragon Lee e conservando il suo IWGP Jr. Heavyweight Championship. Abbiamo assisto ad un match veramente gradevole, che ha saputo esaltare anche gli scettici nei confronti di Dragon Lee, autore di una prestazione ammirevole e di un Inverted Powerbomb che ha letteralmente spezzato il collo di Hiromu. Arriveranno ben presto news dal Giappone.
•Serata indimenticabile per Juice Robinson, il quale cattura l'IWGP US Heavyweight Championship dalle grinfie di Jay White. Match abbastanza dimenticabile a mio modo di vedere; complice l'eccessiva durata (15 minuti sarebbero bastati).
•Kenny Omega batte Cody Rhodes nella sua primissima difesa titolata dopo aver detronizzato Kazuchika Okada a Dominion 6.9. Match sufficiente a parer mio, seppur un po' sottotono a causa delle aspettative basate su di esso. Spot importanti, qualche bella manovra e un timing non eccessivo fanno da cornice a questo incontro che può essere guardato nei momenti di noia.
La ciliegina sulla torta arriva a fine evento, dove King Haku, Tama Tonga e Tanga Loa attaccano i restanti membri del Bullet Club prendendo la posizione di "Firing Squad". Cody dunque è ora un face. La cosa fa storcere il naso a molti – me compreso – un Cody heel rende decisamente meglio, soprattutto per il suo appeal. Vedremo come si svolgerà la continua Civil War all'interno del BC!
Burning Hammer tornerà a battere incandescente fra un mese, portando news e analisi sul G1 Climax della NJPW!
さようなら