Carissimi lettori di The Shield of Wrestling, torna a battere incandescente sul nostro sito Burning Hammer, l'editoriale mensile che vi tiene aggiornati sul mondo del Puroresu! 
•NOAH: SUGIURA'S DEFENCE – Burning Hammer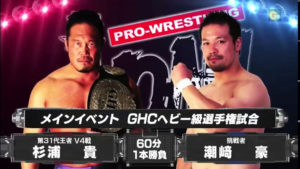 Gli ultimi trenta giorni sono stati infernali per Takashi Sugiura, artefice di due difese titolate non indifferenti. L'attuale detentore del GHC Heavyweight Championship (175+ days) ha difeso con successo il suo titolo, dall'assalto di una vecchia conoscenza, ovvero Go Shiozaki all'evento "Kawasaki Sports Association 70th Anniversary". Il match, apprezzato da molti – me compreso – è stato fantastico: Cadenzatamente, l'incontro ha preso una piega pressoché inusuale per gli standard conosciuti ai più. Difatti, i tecnicismi sono stati ridotti al minimo, in modo che lo Strong Style potesse esplodere liberamente. Capovolgimenti dalla sfumatura thriller, qualche spot carino extra ring e un finale grandioso hanno reso imperdibile questo incontro. Sugiura, ormai stremato dopo mezz'ora di combattimento, ricorre alla sua Olympic Slam dal paletto, che gli permette di conservare il titolo.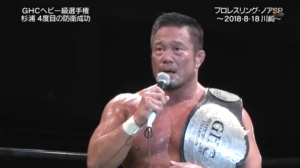 Il veterano ha recentemente tenuto un'altra difesa titolata, 'sta volta dall'assalto di Masa Kitamiya. Tralasciando il match – che non ho ancora avuto il piacere di vedere – sembra che la NOAH voglia finalmente premiare Katsuhiko Nakajima, prossimo macigno sulla strada di un Sugiura che si, è dannatamente preparato e coinvolgente, ma è indubbio che all'omonima federazione serva un volto giovane. Vedremo se il 2 ottobre le cose cambieranno.
•NAOMICHI MARUFUJI VS KENTA: FIGHT FOREVER – Burning Hammer
Restando in tema con la NOAH, il 1° settembre, all'evento "Flight" – che commemorava la carriera ventennale di Naomichi Marufuji – si è svolto un match che in molti aspettavano.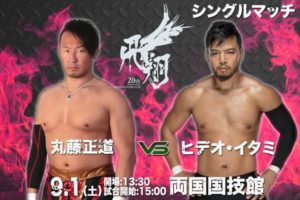 Solo le entrate sono state sufficienti a far rabbrividire la mia schiena. Non il loro match migliore, ma nemmeno il peggiore; anzi, voglio aggiungere che è uno dei più godibili. Rivedere KENTA in NOAH è sempre una grande emozione, se poi è affiancato al suo eterno rivale, Naomichi Marufuji, le parole si sprecano. Dopo un incontro estenuante, ad aggiudicarsi la vittoria è stato Naomichi, che resta il più vincente di questa eterna faida.
•NJPW: DESTRUCTION EVERYWHERE- Burning Hammer
Da oggi iniziano le tappe targate "Destruction" della New Japan Pro Wrestling. Si partirà dalla prefettura di Hiroshima, per poi raggiungere il culmine il 23 settembre, a Kobe. Il main event inaugurale del primo evento, se qualcuno di voi lo avesse scordato, vede Kenny Omega difendere la propria corona dall'assalto di Tomohiro Ishii.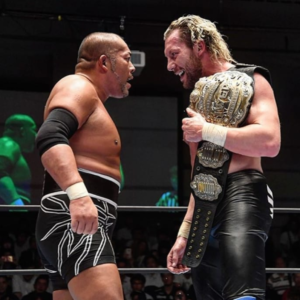 Dopo la strabiliante prova messa in scena al Climax, Kenny Omega si trova a fare i conti con una vecchia, ma ostica conoscenza. Il match sarà titolato e andrà a ricoprire il posto più alto della card. Crearsi delle aspettative per questo incontro è da pazzi; sperare in un match superiore al capolavoro fatto durante il Climax è da ricovero. Ciononostante, la NJ ci ha abituato che i limiti sono bazzecole di fronte a determinate situazioni; ergo, Ad Maiora Semper.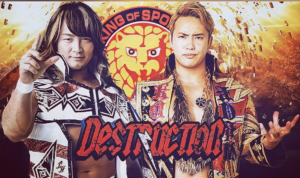 Destruction in Kobe presenterà proprio il match che vedete nella grafica sovrastante. E si, la valigetta del Climax sarà in palio. Some Old Stuff è proprio la sigla che rasenta a pieno l'essenza di tutto l'editoriale. Sarò breve: Hiroshi Tanahashi è uno dei wrestler che più mi piace, non nego che sarebbe presente all'interno di una fantomatica top 5, ma è da ciechi non ammettere che le sue prestazioni sono- giustamente – calate. Salvo qualche raro caso. È sacrosanto che disponga di una specie di ultima run, in vista di un periodo sabbatico, ma dall'altra parte abbiamo un Kazuchika Okada desideroso di vittoria. Il Rainmaker necessita quel titolo, non può privarsene per un lasso di tempo così prolungato. Un plot twist con Okada vs Omega nel main event di Wrestle Kingdom mi farebbe piacere ugualmente.
Chiudiamo l'appuntamento con una foto assai significativa: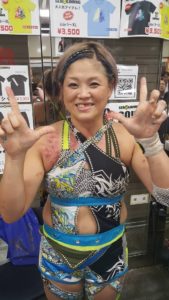 Nanae Takahashi, una delle joshi wrestler più rinomate di sempre, al termine di un durissimo match con Go Shiozaki. Quando la passione per il pro wrestling è talmente elevata che ti diverti anche in momenti così duri: rare situazioni che vanno immortalate obbligatoriamente.
Il martello è caduto. Burning Hammer torna fra trenta giorni e ci saranno un sacco di novità sulla NJPW, sulla continuità della NOAH e anche qualche aggiornamento sulla AJPW.
さよなら