Carissimi lettori di The Shield of Wrestling, ritorna a battere incandescente sul nostro sito Burning Hammer, inevitabilmente carico di opinioni sull'ormai archiviato G1 Climax ospitato annualmente dalla NJPW.
Avevo in mente di portarvi una bella analisi sull'intera manifestazione, però – a mio modo di vedere – sarebbe risultata un po' noiosa, simile ad un palinsesto televisivo scarno e banale. Dunque oggi ho portato con me un "vaso di Pandora" contenente la Top3 dei match che più ho gradito – soggettivamente parlando – della ventottesima edizione del G1 Climax.
3) TOURNAMENT'S END: HIROSHI TANAHASHI V. KOTA IBUSHI – Burning Hammer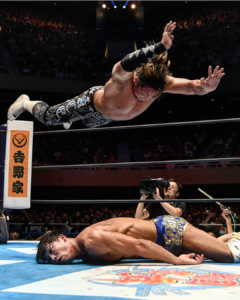 Finale degna di questo nome, seppur io abbia preferito due match al suddetto. Più di 40 minuti passati ad esternare un Fighiting Spirit senza eguali, con Hiroshi Tanahashi protagonista assoluto dell'ultima fase dell'incontro. Kota Ibushi ce la mette tutta, esegue le sue manovre più pericolose ma un evergreen Hiroshi chiude la contesa con una combo di tre High Fly Flow e guadagna un pass per Wrestle Kingdom 13, dove è assicurato il suo IWGP Heavyweight Championship Match.
2) G1 CLIMAX DAY 14: TOMOHIRO ISHII V. KENNY OMEGA – Burning Hammer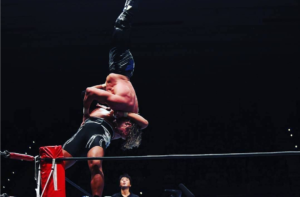 Sorpresa più bella del torneo? Assolutamente si. Nonostante io l'abbia soggettivamente messo secondo nel podio, oggettivamente credo sia il miglior match offerto dal G1 Climax. Ishii letteralmente il mostro di "Frankenstein", in grado di continuare l'incontro anche dopo più di dieci V-Trigger e un paio di signature moves sparse. Un Omega sanguinante cerca di chiudere la pratica con la sua One Winged Angel ma, non solo lo Stone Pitbull sventa la manovra, ma crea anche un'opportunità congeniale che lo porta alla vittoria tramite BrainBuster. Che match, signori.
1) G1 CLIMAX SEMIFINALS: KENNY OMEGA V. KOTA IBUSHI – Burning Hammer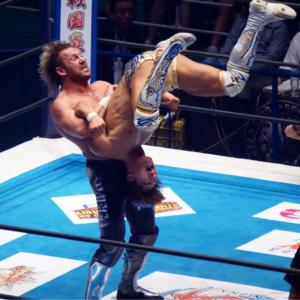 Un 'mamma mia' alla Mauro Ranallo nei suoi tempi migliori non riuscirebbe a rasentare il mio entusiasmo nei confronti di questo incontro; semplicemente bellissimo. Match meglio raccontato di questo torneo, con i due migliori amici che dimostrano di essere dei "migliori" nemici. Kota Ibushi dà tutto se stesso e, a malincuore, connette la Kamigoye che lo porterà ad archiviare la pratica. Credo, inoltre, che questo sia uno dei match che più ho apprezzato quest'anno.
Considerazioni finali – Burning Hammer
Abbiamo assisto ad un torneo piacevole e divertente da guardare: match fantastici, colpi di scena e spunti per il futuro hanno fatto da cornice ad un'edizione di riferimento anche per il futuro. Hiroshi Tanahashi è il nuovo sfidante di Kenny Omega ma non dimentichiamo che sia Kota Ibushi che Tomohiro Ishii hanno battuto il campione. Lo Stone Pitbull lo vedo proiettato verso Power Struggle, dove potrebbe anche mettere in seria difficoltà The Cleaner. Ricordiamo inoltre che da Dominion 6.9 Kenny ha difeso una sola volta la cintura – giustamente – in un match poco entusiasmante. Dulcis in fundo, le previsioni lasciamole ai veggenti e godiamoci questa notevole annata offerta dalla NJPW.
Per questo appuntamento di Burning Hammer è veramente tutto, alla prossima!