Lutto nel mondo del wrestling: è morto "Killer" Tim Brooks. La triste notizia è stata data da Clayton Brooks, figlio dell'ex wrestler NWA.
Una triste notizia ha colpito il mondo del wrestling: si è spento, all'età di 73 anni, "Killer" Tim Brooks, leggendario wrestler che ha calcato i ring di importanti federazioni come National Wrestling Alliance e la World Class Championship Wrestling. Brooks è deceduto dopo una lunga battaglia contro il cancro.
Il lottatore del Texas era ricordato per la sua foltissima barba che lo caratterizzava ed il personaggio che interpretava che gli permisero di girare diversi ring intorno al mondo.
Queste le parole scritte da suo figlio Clayton sul profilo Facebook per dare il triste annuncio.
It is with a heavy heart that we the Brooks family announce that our father, loving husband, brother and friend has made his depart from this earth to the heavens. From the Brooks family we want to say thank you for all the prayers, love and support through these terrible times. Dad was the toughest man I have ever met he fought cancer like I have seen no other. With all the accomplishments he has made through his 73 years on this earth from being a army veteran of the Vietnam war to holding just about every championship belt through professional wrestling and a hall-of-famer. Most of all he was a God-fearing man a wonderful husband to his wife of 13 years Julie, the best father and grandfather to us kids. He will be missed dearly by so many. We will keep everybody updated on arrangements as they're made thanks again for the love and support.
#killertimbrooks #lovinghusband #lovingdad
Il wrestler di NXT Keith Lee, che venne allenato da Tim Brooks, ha subito commentato l'accaduto con tweet.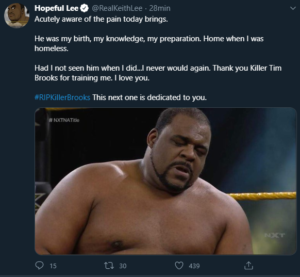 Stiamo cercando nuovi elementi per il nostro staff! Ci sono diverse posizioni disponibili: se sei interessato, CLICCA QUI.
Ora è possibile acquistare la prima rivista dedicata al wrestling italiano. CLICCA QUI!