Mirko Mori: le sue condizioni dopo il Deathmatch – IMMAGINI FORTI. Ecco le condizioni di Mirko Mori dopo il Deathmatch con Nick Lenders a Rising Sun Till Death Do Us Part
Ora è possibile acquistare la prima rivista dedicata al wrestling italiano. CLICCA QUI!
Sabato 9 febbraio 2020, a Pero (Milano), si è svolto l'ultimo evento della Rising Sun Wrestling Promotion: Till Death Do Us Part. Ennesimo successo della promotion lombarda, che è stato caratterizzato da numerosi incontri importanti. Spiccano in particolare la presenza di David Starr, premiato come Indy Wrestler Of The Year da The Shield Of Wrestling, ed il Main Event: un cruento Deathmatch. In palio il Rising Championship. A contendersi il titolo lo sfidante Mirko Mori ed il campione Nick Lenders. La vittoria è andata al secondo, che affronterà Alessandro Corleone al prossimo evento in un incontro di unificazione con il God Of Sun Championship per dar vita al Rising Sun World Championship.
Di seguito, alcune immagini e video dell'incontro e delle condizioni di Mirko Mori dopo l'incontro
Al lottatore sono stati applicati diciotto punti di sutura all'altezza del bacino, cinque in una zona leggermente superiore e quattro sul ginocchio. Sconsigliamo la visione delle immagini ad un pubblico facilmente impressionabile.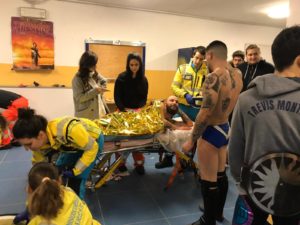 Se volete far parte della nostra community, entrate nel gruppo Telegram.