Benvenuti anzi bentornati lettori di The Shield Of Wrestling. Io sono Davide Cannilla e, come ieri per RAW,oggi analizzeremo i punti più importanti per Smackdown Live! Iniziamo subito!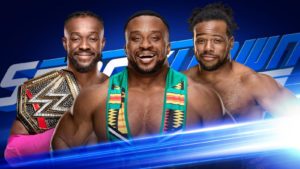 Dopo una bella pausa è ufficiale, stanotte Big E compierà il suo ritorno a SmackDown Live e lo farà in grande stile. Per lui è programmata una "festa di bentornato", gli organizzatori? I suoi due compagni: Xavier Woods ed il WWE Champion Kofi Kingston.
WELCOME BACK, @WWEBigE! #TheNewDay is throwing a Welcome Back CELEBRATION tonight on #SDLive at 8/7c on @USA_Network! https://t.co/tTqZPjXW2c

— WWE (@WWE) May 21, 2019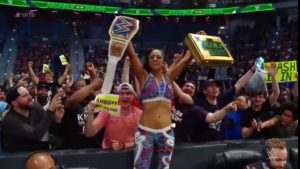 A Money In The Bank abbiamo visto di tutto ma il fatto più clamoroso per quanto riguarda lo show blu è nettamente questo. Bayley dopo aver vinto la valigetta del suddetto evento si trova un assist per incassare sulla nuova campionessa Charlotte Flair, cosa che fa diventando così la nuova campionessa. È stato reso noto che durante la nottata terrà un'intervista, cosa avrà da dire la Hugger?
HUGS ALL AROUND. #BayleyInTheBank #MITB pic.twitter.com/NPa75kH39a

— WWE (@WWE) May 20, 2019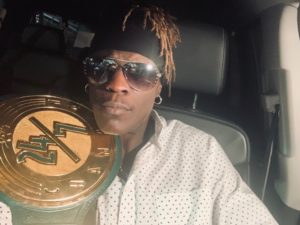 Dopo una clamorosa prima serata il titolo 24/7 targato WWE è già saltato da una vita all'altra per ben 3 volte. Ad uscirne bene è stato R-Truth che è deciso a portare il suo "European" Belt in quel di SmackDown Live. Nel frattempo gli altri alteti sono alla sua ricerca, sperando in un passo falso dell'ex campione degli stati uniti.
We OUT! Taking this European Championship to #SDLive #247Title #dancebreak pic.twitter.com/serHwHBkEb

— WWE R-Truth (@RonKillings) May 21, 2019
— My Shoot Name Brand (@WWEMaverick) May 21, 2019
NEW PLANE FOR THE CHAMPIONS?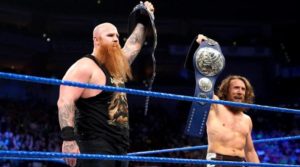 Daniel Bryan tramite un video esclusivo del sito della federazione ha fatto sapere che i Planet's Champion, dopo la sconfitta nel kickoff del PPV contro gli Usos, vogliono reinventarsi. Tutto ciò potrebbe scaturire un segmento in puntata in cui magari scopriremo dei nuovi sfidanti, vedremo.
#TagTeamEvolution #PLANETSCHAMPIONS #SDLive https://t.co/FLPtlK0fmF

— Daniel Bryan (@WWEDanielBryan) May 8, 2019
Abbastanza interessante questa puntata di SmackDown Live che ci aspetta stanotte. Chissà come andrà avanti la serata. Io vi ricordo di seguire il nostro abituale report in diretta. Da noi è tutto…ALLA PROSSIMA!