Carissimi lettori di The Shield of Wrestling, alla tastiera c'è il vostro Phoenix con gli Ups&Downs dell'ultimo pay-per-view WWE, Survivor Series. Buona lettura!
UPS:
•
WOMEN'S MATCH – Ups&Downs
A discapito delle ingiustificate critiche alla vigilia questo incontro si è dimostrato molto onesto e in linea con le storyline. Il lottato offerto è stato gradevole e il finale è probabilmente la cosa più coerente dell'intero pay-per-view. Nia Jax ha schienato Asuka in modo pulito – nonostante la sua imbattibilità sia ormai un ricordo lontano – ed ha innalzato lo status per l'imminente collisione con Ronda Rousey.
•
WHY, CHARLOTTE, WHY? – Ups&Downs
Molti saranno in disaccordo, ma ho trovato questo momento davvero speciale e coerente – in un certo senso – al contesto. Charlotte Flair è risorta dall'ombra di se stessa ed ha iniziato a lottare solo per la sua immagine. Ha strappato la t-shirt di Smackdown Live! ed ha preciso "Sono io la stronza più cattiva del pianeta" mentre inferiva sulla Rousey. Trovo geniale questo segmento per il semplice fatto che piano, piano stanno rendendo umana Ronda Rousey, poiché associarla alla figura di Brock Lesnar sarebbe da pazzi. Una Ronda imbattibile non giova a nessuno; ora gli spunti narrativi sono molteplici. Sono solo perplesso su un punto: Chi sarà la top face di Smackdown Live? Una promozione da NXT sarebbe gradita.
•
CRUISERWEIGHT CHAMPIONSHIP MATCH – Ups&Downs
Nulla di eccezionale, sicuramente, ma è stato un match veramente apprezzabile e divertente nei suoi limiti. Mosse collegate tra loro che hanno costruito un'importante filo conduttore hanno aiutato a rendere piacevole questo incontro, non sono un fan degli spotfest gratuiti ed ho apprezzato questa cosa. La mia curiosità ora va ad ammorbare 205 Live: chi sarà il prossimo avversario di "The Juggernaut"?
•DOWNS:
•THE AUTHORS OF PAIN V. THE BAR – Ups&Downs
Il match che più mi ha deluso è stato questo. Mi aspettavo una contesa abbastanza "rustica", scevra di tecnicismi e giri di parole, ma la WWE non mi ha accontentato. Il finale parla da sé.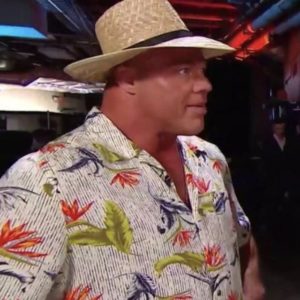 Spero di aver reso bene l'idea di come io mi sia sentito alla visione di Drake Maverick che se la fa sotto.
•5-ON-5 TRADITIONAL SURVIVOR SERIES MATCH – Ups&Downs 
Sono riusciti a fare peggio dell'anno scorso ed era una bella impresa. Innanzitutto è da condannare la poerilita della parte lottata, messa veramente in terzo piano dinanzi a cose superflue, come spot che non sono serviti a granché. Il finale non è per niente convincente ed umiliare Smackdown Live! in quel modo è da incoscienti. Avrei preferito un Drew McIntyre padre padrone di tutto e uomo della contesa. Non c'è molto altro da dire: mi sarei aspettato un Survivor Series Match diverso dato che la carne a cuocere era un bel po'.
•CONSIDERAZIONI NEUTRALI – Ups&Downs
•Shinsuke Nakamura v. Seth Rollins bel match, ma non ci siamo proprio. Due del loro calibro dovrebbe offrire un incontro di pregevole fattura solo con pochi minuti. Capisco l'idea di voler preservare i due per qualche feud imminente – con wrestler separati – ma è eccessiva la cosa.
•Brock Lesnar v. Daniel Bryan si è rivelato essere un piacevole palcoscenico per assistere a capovolgimenti di fronte. Ad un certo punto ho pensato che Bryan vincesse. L'ho trovato un po' carente di logica negli ultimi minuti, tra l'altro non ho capito perché Daniel ridesse a fine match. Questo radicale cambio di attitude va approfondito.
Questi erano i miei pensieri su Survivor Series. Io vi saluto e vi invito a dirmi la vostra nella sezione commenti. Have a nice day!