AEW: Quanti fans erano presenti all'ultima puntata di Dynamite? L'ultima puntata di AEW Dynamite è stata trasmessa dal paese natale di Tony Khan. Ma quanti fans erano presenti nell'arena?
Potete trovare questa notizia e tutti i nostri contenuti anche sulla nostra app. SCARICALA QUI!
L'ultima puntata di AEW Dynamite aveva un sapore molto particolare per Tony Khan dato che è stata trasmessa dalla sua Champaign, in Illinois, dove Khan si è laureato all'University Of Illinois di Urbana-Champaign nel 2007 ottenendo il Bachelor of Science.
Ma quanti fans sono andati a vedere lo show?
Il Wrestling Observer ha annunciato che a Champaign, la AEW ha "raccolto" 4100 spettatori.
Certamente non siamo sui livelli del debutto avvenuto a Washington DC ma resta superiore al minimo ottenuto a Charlotte, North Carolina dove gli spettatori erano 3600.
Con l'ausilio di un grafico, creato dal Wrestling Observer e pubblicato su Twitter da Wrestlenomics abbiamo la lista completa di tutte le presenze nelle arene in occasione degli show televisivi della AEW finora:
02/10/2019. Washington, DC. Capital One Arena: 11500 spettatori
09/10/2019. Boston, MA. Agganis Arena: 6000 spettatori
16/10/2019. Philadelphia, PA. The Liacouras Center: 9000 spettatori
23/10/2019. Pittsburgh, PA. Petersen Events Center: 6000 spettatori
30/10/2019. Charleston, WV. Charleston Coliseum. 5000 spettatori
06/11/2019. Charlotte, NC. Bojangles Coliseum. 3600 spettatori
13/11/2019. Nashville, TN. Nashville Municipal Auditorium. 4000 spettatori
20/11/2019. Indianapolis, IN. Indiana Farmers Coliseum. 4227 spettatori
27/11/2019. Chicago, IL. Sears Centre Arena. 6100 spettatori
04/12/2019. Champaign, IL. State Farm Center. 4100 spettatori.
Di seguito il grafico aggiornato al 27 Novembre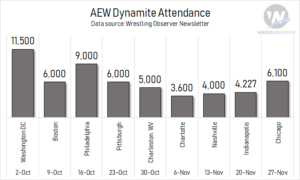 I dati sono altalenanti anche a causa della piccola capienza delle arene. Ne è una prova la buona affluenza nelle arene più capienti. Da questi dati vediamo una AEW in tendenza positiva negli stati del Nord-Est e delle buone risposte specialmente dalla Pennsylvania.
Tutto sommato, la dirigenza mostra soddisfazione per i risultati finora ottenuti, anche per quanto riguarda gli ascolti televisivi. Secondo i dati forniti da Forbes, Dynamite ha attualmente una media che si aggira a 1.000.000 di spettatori per puntata e tende a crescere del 22% ogni puntata raggiungendo l'ottavo posto nella classifica dei programmi via cavo più visti dalla fascia di età tra i 18 e i 49 anni.
Se volete far parte della nostra community entrate nel gruppo Telegram mentre per restare sempre aggiornati sulle ultime notizie seguite il nostro canale Telegram.
Per partecipare alle nostre periodiche chiacchierate entrate a far parte del nostro server Discord.