Popolo di The Shield Of Wrestling, benvenuti! Alla tastiera Alessandro "Jin" Leone per l'appuntamento settimanale con Indy Wrestler Of The Week!
INDY WRESTLER OF THE WEEK – AUSSIE OPEN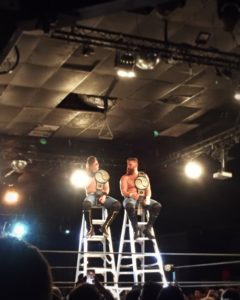 Non c'è modo di schiodare Kyle Fletcher e Mark Davis dalla cima della divisione di coppia. Il 24 si sono imposti nel main event della OTT a Belfast, insieme a Travis Banks, contro i Kings Of The North e Scotty Davis. Ma la vittoria più importante è stata ieri in PROGRESS, a Chapter 87: Breadknife, sconfiggendo gli Sword Of Essex (Paul Robinson e Will Ospreay), riprendendosi i titoli di coppia e diventando per la seconda volta campioni.
Menzione d'onore però per David Starr. The Product ha combattuto quattro match, varcando più volte dei confini nazionali. Si parte con la vittoria con John Klinger in Defiant, poi anche lui in OTT vincendo contro Flip Gordon e poi addirittura due match in due show diversi nello stesso giorno, quelli di PROGRESS ed RPW, con due vittorie: una non titolata con Michael Oku e l'altra per qualificarsi al Super Strong Style 16 contro Connor Mills.
L'attesa è finita
Non è un Pesce d'Aprile: da oggi inizia ufficialmente la settimana più importante di tutta l'annata del wrestling, quella di WrestleMania. Ricordiamo che TSOW seguirà con estrema attenzione ogni evento che si terrà a New York, con diversi podcast e report ordinari e non, per tenervi aggiornati il più possibile. E chissà, al termine di questa lunga settimana, chi verrà premiato come Indy Wrestler Of The Week!