Carissimi lettori di The Shield of Wrestling, ben ritrovati in un nuovissimo appuntamento con Indy Wrestler of The Week, la rubrica settimanale che elegge il wrestler extra WWE che più si è distinto durante gli ultimi 7 giorni.
•INDY WRESTLER OF THE WEEK – JEFF COBB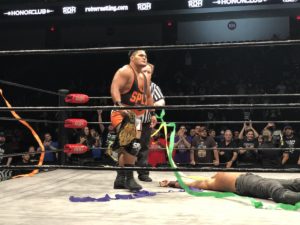 Signore e signori, ecco a voi il nostro nuovo RoH  World Television Champion, Jeff Cobb.
Death Before Dishonor è stato l'ultimo Pay-Per-View della Ring of Honor, che fra gli altri match comprendeva, come ovvio che sia, quello per il World Television Championship. L'ormai ex campione, Punishment Martinez ha agilmente battuto Chris Sabin, ma dopo il match si è palesato un pericolo vero: Jeff Cobb. Il colosso aveva fatto intendere di volere quel titolo, ma nessuno avrebbe previsto che l'avrebbe preso la sera successiva ai tapings.
Jeff Cobb annovera nel suo palmares anche questa importantissima vittoria, che va a sostantivare la recente vittoria della Battle Of Los Angeles ospitata dalla PWG.
È incerta la situazione di Punishment Martinez che, secondo i recenti rumors, dovrebbe approdare presto in WWE; questo giustificherebbe assolutamente questa sconfitta arrivata, letteralmente, dalla sera alla mattina.
Si conclude qui il nostro appuntamento con IWOTW. Alla prossima!