Carissimi lettori di The Shield of Wrestling, dopo una – giustificata – settimana di pausa, Indy Wrestler Of The Week torna sulla nostra piattaforma per eleggere il wrestler extra WWE che più si è distinto durante gli ultimi 7 giorni.
Indy Wrestler of The Week – Addicted To Adrenaline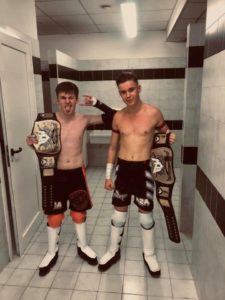 Raramente succede, ma quando succede, noi siamo sempre onorati di inserire avvenimenti successi nella terra nostrana; difatti, sabato scorso, la FCW ha tenuto AbusiveMania 2k18 a Pero (MI), dove gli A2A (Joe Lando & Harrison Bourne) hanno detronizzato A-B Knight & Pasquale 'O Malamente, laureandosi nuovi campioni tag team della Frontier Championship Wrestling.
Joe Lando non è un nome nuovo per The Shield of Wrestling…
Il neo tag team champion ha anche presenziato al nostro podcast, OTTR. Ci teniamo a precisare soprattutto la rapida ripresa del suo braccio che, come ricordiamo, si è rotto il 14 agosto.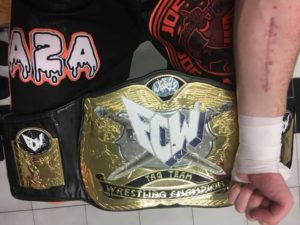 I tempi di ripresa sono stati record e Joe l'ha ampiamente dimostrato con questa vittoria. Complimenti a lui e al suo compare!
Io vi saluto e vi dò appuntamento a 'sta sera, dove parleremo, ampiamente, di Monday Night Raw!