Carissimi lettori di The Shield of Wrestling, torna sulla nostra piattaforma Indy Wrestler of The Week, l'originale format che usiamo per eleggere il wrestler extra WWE che più si è distinto durante gli ultimi 7 giorni di questo "No Nut November". Buona lettura! 
INDY WRESTLER OF THE WEEK – DAKOTA BOSTOCK & SHANE MERCER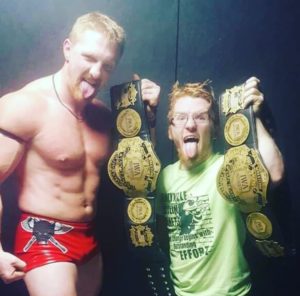 Non è la prima volta che nella storia della rubrica scegliamo di eleggere un tag team anziché un singolo wrestler. Oggi è il caso di Dakota Bostock & Shane Mercer, i quali hanno detronizzato i Top Guys (Adam Slade & Kevin Giza) aggiudicandosi quindi gli IWA Mid-South Tag Team Championship, all'evento "The Player's Ball".
Settima abbastanza scarna per il pro wrestling indipendente, che non ha goduto di contenuti talmente eclatanti da essere menzionati. Io, come sempre, vi dò appuntamento a settimana prossima con un nuovo appuntamento di IWOTW!