Carissimi lettori di The Shield of Wrestling, un'altra settimana è ben trascorsa e, come di consueto, eccoci pronti a decretare l'indy Wrestler of the Week, ovvero la personalità extra WWE che più si è distinta durante gli ultimi sette giorni!
•Allysin Kay – Indy Wrestler of The Week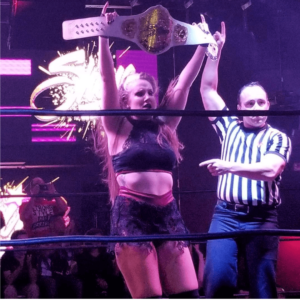 Oh, finalmente posso esprimere tutta la mia gioia per quanto riguarda questa importantissima vittoria. A SHINE 53, Allysin Kay – conosciuta dai più con lo pseudonimo di 'Sienna' – ha finalmente conquistato lo Shine Championship. La vittoria è avvenuta al termine di un torneo indetto a causa dell'abdicazione della precedente campionessa, LuFisto che ha dovuto prendersi una pausa in generale a causa di problemi salutari molto delicati. Ha reso vacante il titolo in quel di giugno. 
•Indy Wrestler of The Week – Entriamo nel vivo dei fatti
Allysin ha dovuto far fronte a molteplici avversità non indifferenti durante questo torneo, ciononostante è riuscita a battere gente del calibro di Santana Garrett e, in finale, la veterana Mercedes Martinez con la quale aveva dei conti in sospeso risalenti a SHINE 40. Ora, nel suo palmarès – dove si annoverano due Knockouts Championship e un GFW Championship – potrà essere aggiunto anche questo alloro che è un orgoglio dell'indy wrestling mondiale.