Buon Sabato a tutti, amici di The Shield Of Wrestling, io sono Mirko "Ronoy" Mulas e siamo qui per una nuova puntata di Pills Of Wrestling. Buona lettura.
Nella scorsa puntata abbiamo parlato dello svizzero Cesaro e della sua carriera tra le varie federazioni mondiali. Abbiamo anche accennato ad un suo compagno di Tag Team che lo ha accompagnato spesso nella sua carriera di wrestler indipendente. Stiamo parlando di Kassius Ohno, wrestler militante attualmente nei roster di NXT e NXT UK. Oggi vi illustreremo un suo grande record , fissato quando ancora il suo nome era Chris Hero.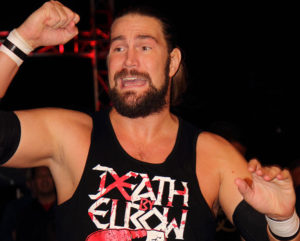 Durante una serata di beneficenza, Chris Hero riuscì a stabilire il record per il match di wrestling più lungo della storia. L'incontro si svolgeva per la Promotion Canadese Smash Wrestling. Hero ha avuto un idea davvero interessante per far fruttare questa serata di beneficenza e le relative donazioni. Ogni volta che qualche benefattore versava una somma di $500, il wrestler statunitense doveva combattere per ben 30 minuti. A fine serata la somma raccolta fu di ben $ 3,440 e ha portato Hero a combattere una sfida di 3 ore e 10 minuti contro 9 avversari separati. Il match è finito quando Tarik, che Hero aveva già battuto tre volte durante la notte, ha colpito Hero con la cintura Smash Wrestling Championship per poi  schienarlo definitivamente. Il record per il match più lungo della storia della WWE è di Bruno Sammartino e Waldo von Erich, che hanno lottato per 81 minuti al Madison Square Garden.
Il Chris Hero di adesso non è neanche lontanamente accostabile alla figura che per anni ha combattuto nella scena indipendente. Ohno infatti ha saputo competere contro i più forti atleti del pianeta nelle più grandi federazioni come Pro Wrestling Guerrilla, la Ring of Honor, la Pro Wrestling Noah e la Combat Zone Wrestling. Ha saputo vincere titoli sia tag team che massimi e ha consolidato la propria fama come wrestler di Punta.
Conoscevate queste curiosità riguardanti Ohno? Fatecelo sapere nei commenti!!
Con questo vi saluto e vi do appuntamento al prossimo Sabato, sempre qui con The Shield Of Wrestling. Stay Tuned Brothers!!