Buon Sabato a tutti, amici di The Shield Of Wrestling, io sono Mirko "Ronoy" Mulas e siamo qui per una nuova puntata di Pills Of Wrestling. Buona lettura. 
Nella scorsa puntata abbiamo approfondito le vicende degli sfortunati detentori della valigetta. Oggi parleremo di una striscia di sconfitte che ha caratterizzato questo personaggio per tutti gli anni 2000. Stiamo parlando del Proprietario della WWE Vince McMahon e del suo record di 0-4 a WrestleMania.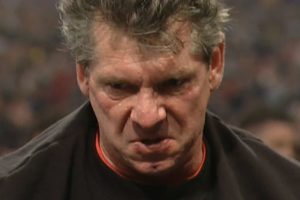 Lo Showcase of Immortals è stato creato da Vince Kennedy McMahon con l'intento di sconfiggere la WCW attraverso un evento sensazionale. Ancora oggi WrestleMania risulta essere l'evento più importante dell'anno per gli appassionati di wrestling. Non molti sanno però che il suo creatore non ha mai ottenuto una vittoria in esso e che risulta quindi uno dei più grandi sconfitti del PPV. Ma partiamo dall'inizio…
•The Creator's Defeats
Nel 2001 durante WrestleMania X7, Vince lottò contro suo figlio Shane in uno Street Fight Match. Dopo varie intromissioni da parte di Stephanie e Linda (la moglie di Vince accompagnata da Trish Stratus), Shane approfittò di un Low Blow della madre al marito per chiudere la contesa con il suo famoso Dropkick dalle corde con l'ausilio di un bidone.
Nel 2003 lo sfidante del Chairman fu Hulk Hogan in una sfida tra Proprietario e volto storico della Federazione. Il match fu molto duro vista la stipulazione che concedeva ogni tipo di mezzo per arrivare alla vittoria. McMahon iniziò a subire l'avanzata di Hogan quando i due si ritrovarono al di fuori del ring e il leader dell'HulkaMania cominciò a colpire il Capo con una sedia, facendolo sanguinare copiosamente. Vana fu l'intrusione di Roddy Piper che non riuscì a sventare la sconfitta di McMahon.
Nel 2006 Vince incontrò Shawn Michaels in un No Holds Barred Match per WrestleMania 22. L'incontro fu di ben 18 minuti e a nulla servirono le interferenze di Shane e della Spirit Squad che tentarono di avvantaggiare McMahon. HBK si sbarazzò di tutti facendo sanguinare il Boss e finendolo con la solita Sweet Chin Music.
L'ultimo match si svolse a WrestleMania XXVI e vide contrapporsi al Propretario della WWE Bret "The Hitman" Hart. Una rivincita aspettata per ben 13 anni che il canadese si gustò beatamente. Dopo aver massacrato Vince con ben 18 sediate, Bret lo chiuse nella sua inconfondibile Sharpshooter e vinse l'incontro che per l'occasione fu arbitrato da suo fratello Bruce.
Conoscevate queste vicende del Chairman ? Fatecelo sapere nei commenti!!
Con questo vi saluto e vi do appuntamento al prossimo Sabato, sempre qui con The Shield Of Wrestling. Stay Tuned Brothers!!