Carissimi lettori di The Shield of Wrestling, alla tastiera c'è il vostro Phoenix pronto a raccontarvi l'ennesima pillola relativa al nostro sport-spettacolo preferito. Buona lettura!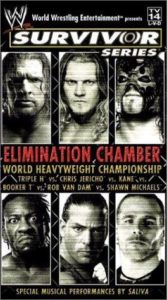 Siamo in tema Survivor Series e, dopo il debutto di The Undertaker, ammetto che è stato abbastanza difficile proporvi qualcosa di interessante ma originale allo stesso tempo. Oggi parliamo  di un accaduto molto particolare, risalente a Survivor Series 2002, famosissimo per la sua innovazione e per l'ennesima mancanza del match a squadre. E no, non scriverò riguardo la vittoria del WWE World Heavyweight Championship da parte di Shawn Michaels, bensì di un wrestler ancora oggi sulla cresta dell'onda: Brock Lesnar.
•WHY PAUL WHY? – Pills of Wrestling
La maggior parte dei fan ha sempre reputato Brock Lesnar l'essere imbattibile. Effettivamente è così che ci è stato sempre proposto, anche se non sempre è stato un fattore così accentuato come lo è oggi. L'atleta UFC ha avuto le sue difficoltà in carriera e, soprattutto, dei grossi macigni da frantumare. Uno di questi è The Big Show, passato da Raw a Smackdown! dopo la brand extension. Il gigante sfruttò il fatto che Brock fosse reduce da un feud con The Undertaker, e decise di sfidarlo per Survivor Series, con ovviamente in palio il WWE Championship, diventato esclusiva di Smackdown!
Arriviamo dunque all'evento, dove accadde l'impossibile: quanti di voi, ad oggi, puntano su un possibile turn heel di Paul Heyman ai danni di Brock Lesnar? Pochissimi, deduco. Ebbene si, durante il suo match con The Big Show, l'attuale Universal Champion subì il tradimento del suo futuro avvocato, che impedì allo stesso Brock di difendere la cintura. Ciò che ne segue è assolutamente storia. Una delle storyline più riuscite di quell'annata, con un "plot" semplice, ma efficace; in grado di rendere piacevole tutti i segmenti, che sovrastarono completamente la discreta parte lottata.
Spero di aver addolcito la vostra giornata con questa pillola inerente ad un argomento sempre caldo. Dalla base è tutto, have a nice day!