Popolo di The Shield Of Wrestling, benvenuti! Alla tastiera Alessandro "Jin" Leone per la preview del ROH 17th Anniversary Show, che si terrà questa sera a Las Vegas.
LIFEBLOOD (MARK HASKINS & TRACY WILLIAMS) VS THE KINGDOM (TK O'RYAN & VINNY MARSEGLIA)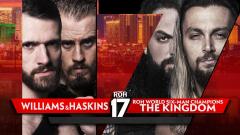 Parte della faida principale della federazione, mi attrae unicamente per i partecipanti, in particolare quelli del LifeBlood che fin qui si stanno comportando molto bene nella federazione, anche se non c'è stata questa grande riforma come speravo. Pronostico una vittoria dei face. VINCITORI: LIFEBLOOD.
JONATHAN GRESHAM VS SILAS YOUNG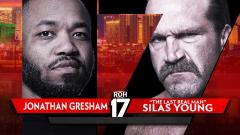 …ma quando è stato annunciato questo match? In TV non c'è mai stata una faida tra questi due. Match totalmente inutile. Magari i due tireranno su una buona contesa visto che parliamo di grandi atleti, ma l'assenza di costruzione è troppo grave. Pronostico una vittoria per The Octopus, che in questo periodo ne ha bisogno. VINCITORE: JONATHAN GRESHAM.
BANDIDO VS RUSH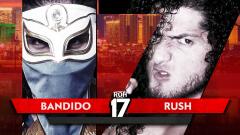 Faida molto semplice, ma ammetto di aver faticato a scegliere tra giallo e verde, dato che sono due wrestler che adoro. Bandido viene da un'annata fantastica che lo ha consacrato come uno dei migliori luchador al mondo, mentre Rush, dopo aver fatto tutto il possibile ed immaginabile in CMLL, si sta allargando, facendosi notare in diverse federazioni. Scegliere il vincitore è davvero difficilissimo, però punterei su Bandido che continuerebbe ad alzare il suo status. El Toro Blanco ha tempo per ottenere vittorie, specialmente nella sua faida col Kingdom. VINCITORE: BANDIDO.
KENNY KING VS MARTY SCURLL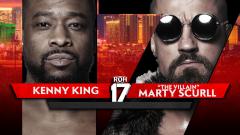 Questo è il rosso che più di tutti mi fa male. Tralasciando la discutibilità della faida, voglio aprire un discorso su Scurll, che da praticamente un anno, ogni volta che c'è l'occasione, è sempre favorito alla vittoria del titolo massimo. Il diventare leader del Villain Enterprises doveva essere un incentivo, ma invece è rimasto bloccato in questioni da midcarding e puntualmente in ogni match è sempre lui a subire, facendolo svalutare molto in confronto ad i suoi compagni e non rendendolo più un avversario credibile per il titolo massimo. Sembrano però voler invertire la rotta, con l'annuncio di Scurll n°1 contender a G1 Supercard. VINCITORE: MARTY SCURLL.
KELLY KLEIN VS MAYU IWATANI (C) – WOH WORLD CHAMPIONSHIP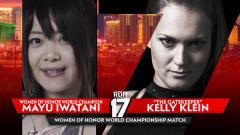 Sono stufo di dover ripetere sempre le stesse cose riguardanti l'inutilità e la noia che fanno da sfondo alla divisione femminile ROH, infatti ci aggiungerò qualcosa. Il regno della Klein non è stato assolutamente credibile ed accettabile dopo quello di Sumie Sakai ed aggiungerei che l'assenza della campionessa, una delle mie lottatrici preferite al mondo, ha danneggiato il titolo in questo lungo periodo. Prevedo un ritorno del titolo nella federazione. VINCITRICE E NUOVA CAMPIONESSA: KELLY KLEIN.
SHANE TAYLOR VS JEFF COBB (C) – ROH WORLD TV CHAMPIONSHIP

Pochi secondi per strappare il titolo ad un campione dominante come Punishment Martinez, grande difesa contro Adam Hangman Page…cos'è rimasto della prima parte del regno dell'ex Matanza? Si è completamente persa la sua figura dominante e Shane Taylor non è assolutamente un lottatore alla sua altezza. Speriamo sia solo di passaggio questa situazione. VINCITORE ED ANCORA CAMPIONE: JEFF COBB.
VILLAIN ENTERPRISES (BRODY KING & PCO) VS THE BRISCOES (JAY BRISCOE & MARK BRISCOE) (C) – NO DISQUALIFICATION – ROH WORLD TAG TEAM CHAMPIONSHIP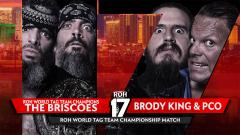 Per quanto mi riguarda, questo è un grande errore nella costruzione del Villain Enterprises, dato che è palese, soprattutto dopo la sfida annunciata con i G.O.D. per G1 Supercard, il risultato. La streak di vittorie di King e PCO è palesemente giunta al termine. Speriamo non facciano però la fine di altri team mandati in pasto ai Briscoes. Almeno, sono sicuro che sarà una buona contesa, con diversi spot divertenti. VINCITORI ED ANCORA CAMPIONI: THE BRISCOES.
MATT TAVEN VS JAY LETHAL – ROH WORLD CHAMPIONSHIP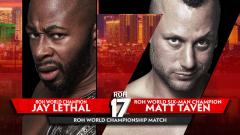 Faida troppo lunga, stagnante, interrotta, poi ripresa, poi interrotta nuovamente…grande spreco di ciò che si poteva fare con Taven, che con il passare del tempo è diventato sempre meno interessante e sempre più fastidioso. Il suo attuale personaggio non mi sembra capace di avere un regno mondiale, ma considerando tutti i record battuti da Lethal, la location e quanto spazio si stia dando al Kingdom, ho seria paura per il risultato. Ma sono convinto vogliano dare starpower per G1 Supercard. VINCITORE ED ANCORA CAMPIONE: JAY LETHAL.
Approfitto dell'articolo per comunicare alcuni match annunciati per i tapings seguenti al PPV: Kingdom vs Villain Enterprises per i titoli 6-Man (pronostico un cambio di titolo), rivincita tra Bandido e PJ Black, Briscoes vs Jeff Cobb e Willie Mack per qualificarsi alla NWA Jim Crockett Cup, Rush vs Mark Haskins, Tracy Williams vs Kenny King e Dalton Castle con i The Boys vs Clark Conners, Karl Fredericks e Alex Coughlin, tre NJPW Young Lions.