Carissimi lettori di The Shield of Wrestling, torna sui vostri schermi "Indy Wrestler of The Week", la rubrica settimanale che elegge il wrestler extra WWE che più si è distinto durante gli ultimi 7 giorni.
Indy Wrestler of The Week – Shuji Kondo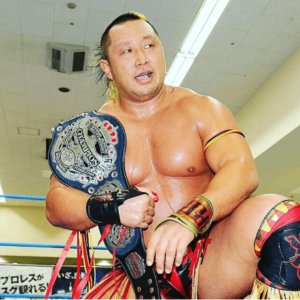 Avendo strappato l'AJPW World Junior Heavyweight Championship a Koji Iwamoto, il veterano del Giappone è senza dubbio il nostro uomo. Il tutto è successo questo sabato, all'evento AJPW Royal Road Tournament, dove il campione è stato detronizzato dopo soli 27 giorni. Questo è il terzo regno di Shuji, il quale annovera nel suo palmares più di 500 giorni da campione – in totale – della suddetta cintura.
L'appuntamento termina qui. "Chiudi la saracinesca, HAL!".